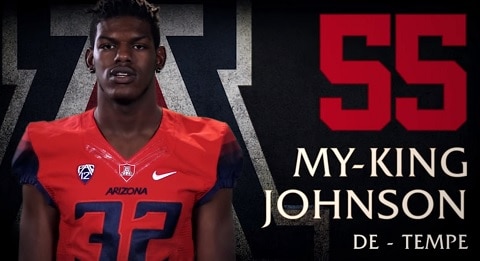 High school student My-King Johnson, who came out as gay earlier this year, has been awarded by the Arizona Republic with its Courage Award.
The Arizona Wildcats recruit, who came out in profile in the Arizona Daily Star in February, will be the first openly gay football scholarship player in the NCAA
Speaking to Outsports, Arizona Republic sports editor Mark Faller said:
"My-King Johnson was one of three finalists for the Courage Award, which we present to student-athletes who show strength in the face of difficult or trying circumstances.
"The other two finalists had their own challenges. One quarterbacked a football game two days after the unexpected death of his father. The other stood up to racist taunts directed at him at a basketball game.
"This is the second season of our program, which is a year-long salute to the best in high school sports culminating with a spring awards show. For all of our awards we canvass the state for nominees, select three finalists, then the staff votes to choose a winner, which is announced at the event."
When he plays for Arizona this fall, Johnson will become the first openly gay player in college football's FBS division.
He did not attend the awards ceremony because the invitation ended up in his school coach's spam folder.
Watch an Arizona Wildcats profile of Johnson below.