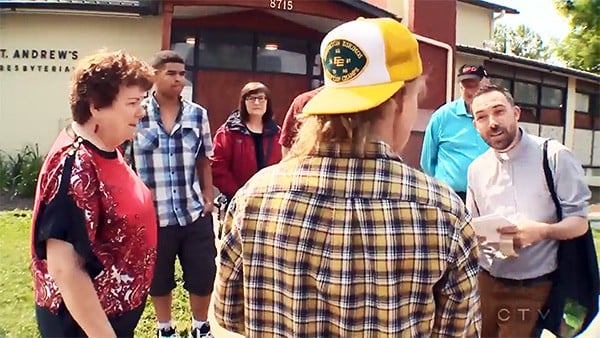 A church in Edmonton, Canada has responded to a spate of homophobic messages left around the city with its own messages of acceptance that state: "God loves you. So do we."
Contact information for St. Andrew's Presbyterian Church, along with other local churches, was included in the hate flyers left in bus shelters and on boards and signposts, which claimed, "Canada will be punished for the sin of homosexuality."
Individuals affiliated with the church wanted to dispel any notions that it was complicit in this negative campaign as well as sought to counter its bigotry:
"We were really concerned that churches were being presented as anti-gay and our church doesn't agree with that," St. Andrew's Presbyterian Church Reverend Mark Chiang told CTV News on Sunday. "We're hoping this poster lets those who are gay know that there were churches that love and support them and let Christians know that."
A man who attends the St. Andrew's Presbyterian Church came up the idea to counter those homophobic posters with something positive.
"It was a natural reaction for me to say, 'Let's come up with our posters with something more positive'," Brian Gold said.
"I'm concerned when I see homophobic statements like that. If we allow [them] to go unchallenged, it just fosters more hate,"@mdrchiang #yeg pic.twitter.com/6DCWyP321G

— Angela Jung 鄭穎君 (@AngelaJungCTV) July 16, 2017