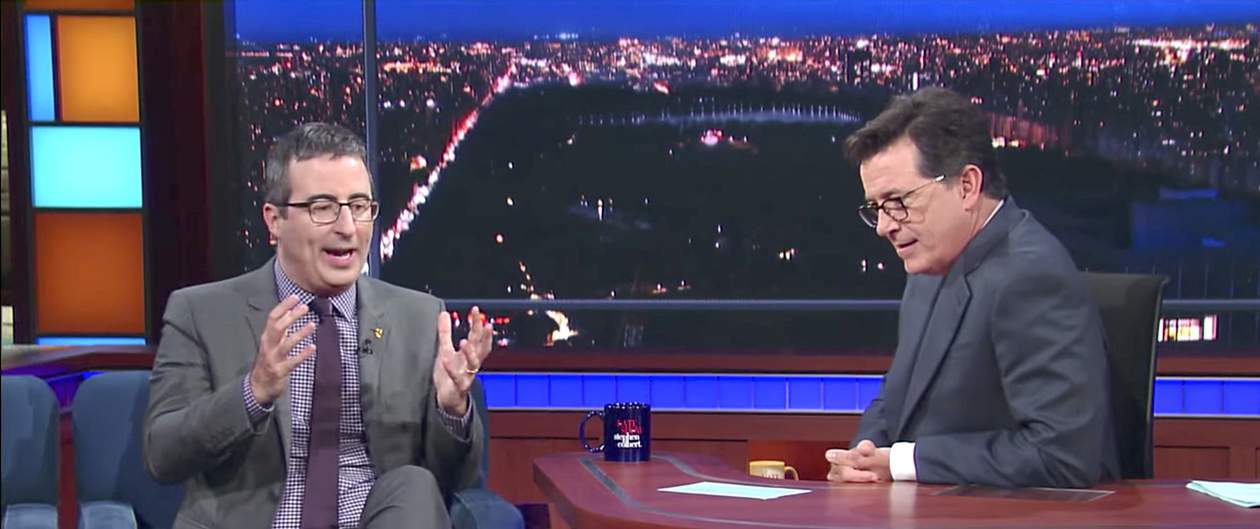 John Oliver sat down with Stephen Colbert last night and they nailed how most people are thinking about the situation the U.S. is in with Donald Trump and Russia.
Said Oliver:
"Way back in March, we came up with this framing device, which is 'stupid Watergate': It's where there's something with all the gravitas of Watergate, but where everyone involved is stupid and bad at everything. Unfortunately, it was supposed to be a self-contained joke, but current events are making it more and more relevant. Which is not normally how jokes work."
One thing that baffles the two hosts, as it baffles many people, is that the world we are in right now appears to be one in which bad people can get away with anything. Of the Donald Jr. emails, Oliver commented:
"What I found amazing was his confidence in saying, 'This is nothing.' I don't know what he is referring to there. The contents of the email? The content of his head? If it's the second one, I agree; if it is the first, I fiercely disagree."
He added:
"This is something as long as we live in a world where something means anything, and I'm not sure we do anymore. It seems serious, but do we live in a world devoid of consequences now? I forget where we are in human history. This seems like a seismic event. But it might be nothing."
To which Colbert replied:
"Have we come to a nation where colluding with a hostile foreign power to manipulate our election is a left-right thing? Is that it? Is that where we are?"
To which Oliver responded:
"The very fact that you said that sentence out loud means that we are turbo-f**ked."
Continued Oliver, speaking of the Trump administration:
"Do you think they understand? Is it possible there's not a logical sequence of events in their mind that have made them understand the gravity of the situation they're in? … Are they just too dumb to realize what's happening? And the answer is not definitely 'no'. That's what's making this a roller coaster time in American history."
Oliver then talked about his "terrifying" 36-hour trip to Russia.
Watch:
In the second part of the interview, Oliver was asked about being sued by a coal company, which he can't really talk about.