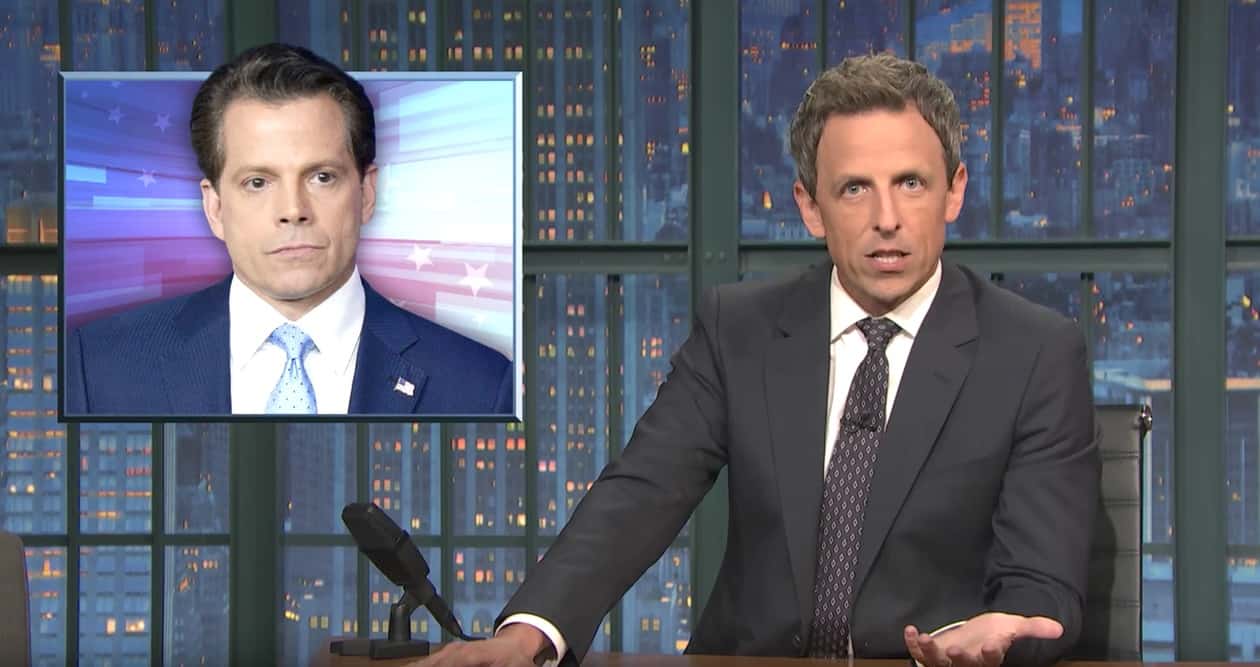 Seth Meyers offered Trump's new communications director Anthony "The Mooch" Scaramucci a Late Night welcome on last night's A Closer Look.
Meyers started with the departure of Sean Spicer, and the story which emerged this week that Spicer had stolen a mini-fridge from junior research employees after the staffers had left.
"Man, working for Trump is like doing crack cocaine. At first it must be an amazing high but eventually your life falls apart and you start stealing appliances."
So, Spicer is out, and who will fill the void?
"Enter, the Mooch!", belted Meyers. That's right, Trump's new Communications Director is Wall Street financier Anthony Scaramucci.
"Look at this guy! He's a human pinky ring. He's the human embodiment of a double-parked BMW. He looks like the guy who leaves a doo-wop group over creative differences. He looks like the only magician you can get on short notice. I could go on and on. He definitely calls waitresses 'sweetheart.' His yearbook quote was 'don't worry about it!'"
Scaramucci is definitely good at the one thing that matters, "lavishing praise on Donald Trump."
He also ended his first press conference with an air kiss.
Quipped Meyers: "So in summary, the Mooch gave us a smooch after Spicey screwed the pooch."
Meyers also pointed out that Scaramucci announced on Twitter that he would be deleting lots of old tweets that conflict with Trump's positions on all kinds of things (like tweets supporting LGBTQ rights and Hillary Clinton).
His language on the morning shows was also quite interesting. Scaramucci said his purpose was "to aid and abet" Trump's agenda.
Said Meyers, imitating The Mooch: "In fact, you can even say I'm here to be the president's accomplice. I just want to be an accessory to his agenda both before and after the fact. We are breaking and entering a new era, and if making America great again is a crime then the president is guilty as charged."
Watch:
https://www.youtube.com/watch?v=smF2_B0Qtm0