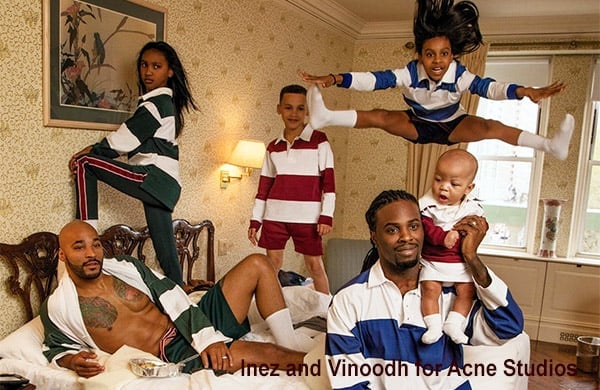 Atanta-based gay couple Kordale Lewis and Kaleb Anthony, along with their four children, have been highlighted anew in advertising for Swedish fashion house Acne Studios.
The dads went viral on social media a few years ago with an eye-catching photograph depicting the duo getting their children ready in the morning, and have since been featured in advertising as a result, including an ad campaign for Nikon. Lewis also parlayed his distinctive family's story and background into a memoir.
Now they have become the first black LGBT family to represent a high-fashion European clothing line, on behalf of a collection that launched last week on August 17. Their selection is explained by the label's creative director Jonny Johannson:
The collection's accompanying lookbook, lensed by power photography duo Inez and Vinoodh, features Atlanta-based couple Kordale Lewis and Kaleb Anthony posing with their four children in select pieces from the line, including skull cap beanies, long-sleeve rugby polos, side-stripe track pants and shorts.
"I have been thinking about families for a long time. Since Acne Studios started as a collective, we would see each other as a family back in the days. I therefore wanted to portray households of today, in all constellations — this is how we found Kordale and Kaleb. How does the [trademark] face motif fit into all of this? Well it's just an ordinary Swedish citizen. Not too happy, not too sad, but somewhere in between. Lagom in Swedish. Like me."
You can watch a synopsis and slideshow of the campaign at this link.