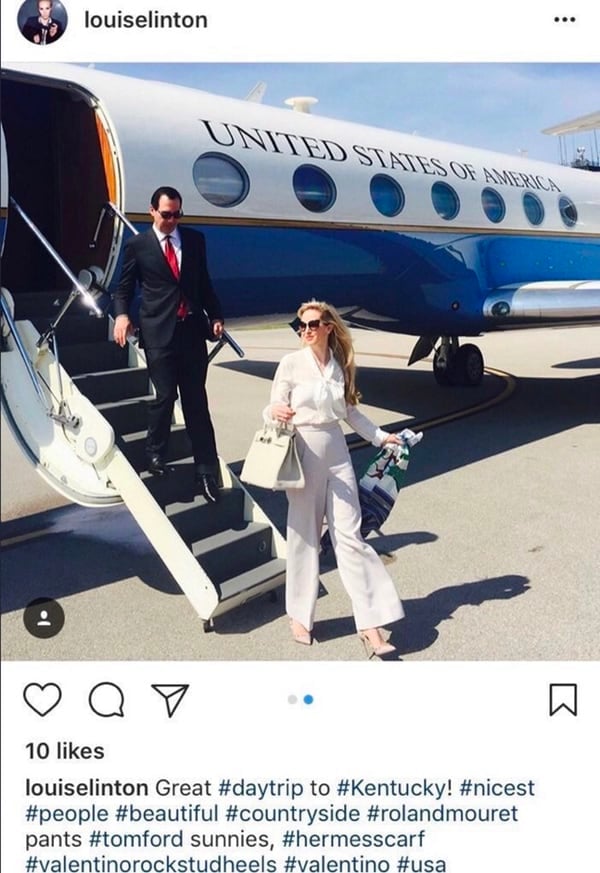 Classhole Louise Linton, the wife of Treasury Secretary Steven Mnuchin, apologized late yesterday for an Instagram post in which she boasted about her wealth and touted her fashions, tagging each one before belittling a commenter who had the audacity to comment on how inappropriate she was.
Said Linton, who has played Marie "Let Them Eat Cake" Antoinette on television, through a publicist: "I apologize for my post on social media yesterday as well as my response. It was inappropriate and highly insensitive."
An official with the Treasury Department also put out a statement that the government had been reimbursed for Linton's "day trip" to Kentucky, one of the poorest states in the nation.
And Linton's attempt to be some sort of influencer backfired handily, with brands distancing themselves from the classless climber.
Valentino and Tom Ford rejected any association, WWD reports:
A spokeswoman said plainly that "Louise Linton did not receive any gifted merchandise, compensation or loans from Valentino" when asked whether the company had any formal business interest in being tagged in a late Monday post by Linton.
The actress, whose most high-profile role to date is a 2007 appearance on "CSI: NY," is also not affiliated in any way with and has received no free merchandise from Tom Ford, a brand she also mentioned in her post.
The one thing Linton did succeed at was to establish herself as a classless icon for the out of touch Trump administration, populated with officials who see it as a branding opportunity, who claim to be making a personal sacrifice from their individual wealth-accumulating endeavors.