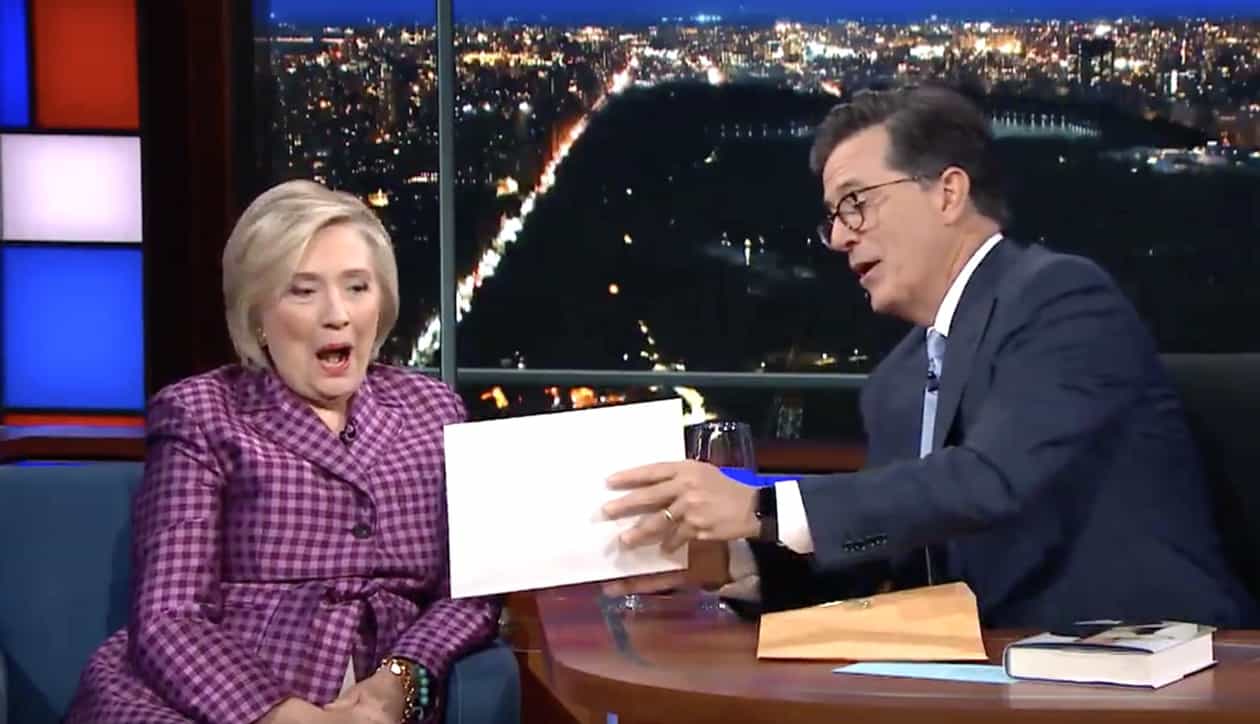 Stephen Colbert's interview with Hillary Clinton on last night's Late Show was a bit more relaxed that many of her recent publicity stops to promote her new book, What Happened, and included Chardonnay and some man buns.
Here's how it ended:
THE GIFT: Stephen hands @HillaryClinton a dossier of unused 'Clinton victory' jokes from Election Night, with one very cheeky photo inside. pic.twitter.com/44CahJa83a

— The Late Show (@colbertlateshow) September 20, 2017
Before that happened, there was some serious discussion.
She discussed the difficulties writing her book:
"It wasn't easy. It was painful. It was horrible, reliving it. And, you know, being as candid, open as I could be about the mistakes I made, and talking about those. But also trying to come to grips, as I write in the book, about everything from sexism and misogyny to voter suppression to the unusual behavior of the former Director of the FBI, and the Russians. And the Russians."
Clinton went into a lengthy discussion of Putin's character, calling herself "Paula Revere" in sounding the alarm:
"I think that they believe they had a good outing in 2016, and I think they will be back in 2018 and 2020 unless we stop them."
Clinton said that Putin developed a "grudge" against her as Secretary of State because she would say things like "the Russian people deserve free and fair elections, they deserve to have a democracy."
"I don't take it personally. I think it's part of his worldview, which is all tied up with his anger, with his disappointment in the collapse of the Soviet Union, and his feeling that we're his #1 rival….I was doing my job, and partly because I'm a woman, which does seem to get him a bit agitated…Well, he demonstrated, as I write in the book, you know, there's an expression—we certainly know it in New York—called 'manspreading?' Every time I met with him it would be (stretches out her arms). The whole deal."
Watch: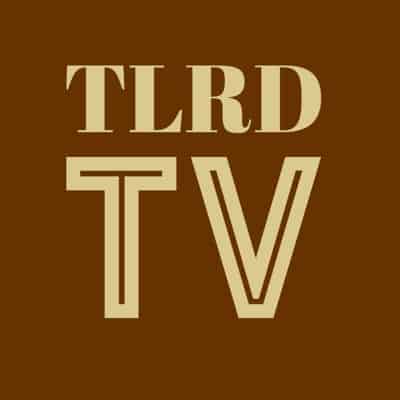 Colbert also asked her about her seriousness about challenging the legitimacy of the 2016 election.
"Nobody's talking about contesting the election, including me, because there is no mechanism," Clinton said.
Clinton slammed Trump's appearance at the United Nations, in which he vowed to "totally destroy" North Korea if Kim Jong Un continued to provoke the West.
"I thought it was very dark, dangerous, not the kind of message that the leader of the greatest nation in the world should be delivering…You should lead with diplomacy…You should lead with the commitment to try and avoid conflict however you can."
Trump responded in a Wednesday morning tweet:
https://twitter.com/realDonaldTrump/status/910453612630900736
Colbert also noted Clinton's fondness for Chardonnay and shared a toast with her before she left.
Watch: