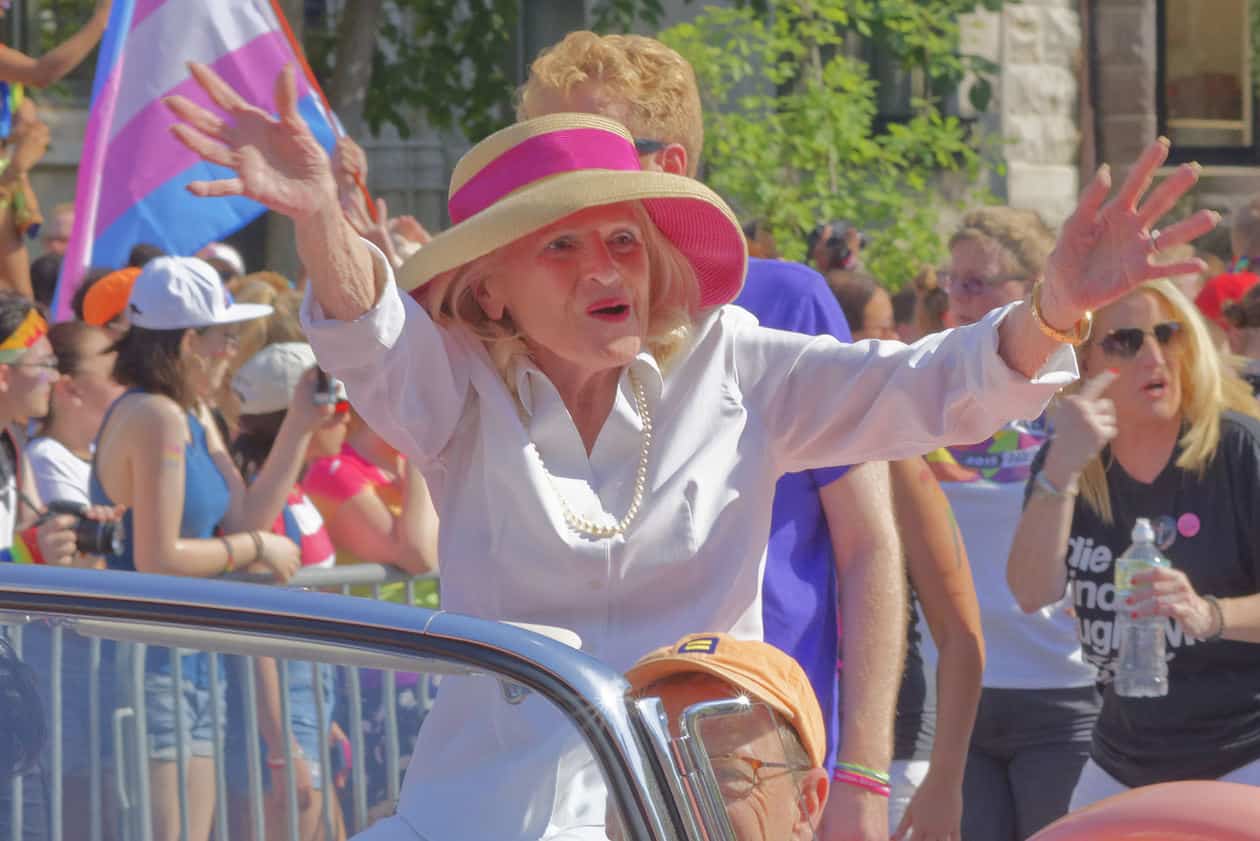 Edith Windsor, plaintiff in the SCOTUS marriage equality case which struck down the Defense of Marriage Act in 2013, has died at 88.
Earlier today, Judith Kasen-Windsor confirmed Windsor had passed away but did not give a cause of death. The two were married last year, just a year after marriage equality became the law of the land due in no small part to Windsor prevailing in the case that started out as an effort to get her tax refund like any other spouse and ended up striking down DOMA and achieving the first federal recognition of same-sex marriage.
Many saw this case as key to the "evolution" of LGBT rights in the eyes of mainstream politicians. It made clear after the vacuous last shreds of shrill and ominous objections by right-wing wedge-issue believers that DOMA and the prohibition of same-sex marriage was not about protecting the virtue of America nor about even preventing man-on-man and woman-on-woman love.
Instead it showed the discrimination against same-sex couples in everyday and relatable American issues like tax returns, hospital visitation, and cash and and inheritance. And Edith Windsor came out of nowhere as if she had been preparing to lead the fight her entire life.
At the same time humble and regal, Edith Windsor seemed to revel in the new life her case offered and was seen waving from the head of pride parades, giving hugs while going into and out of LGBT events, and vacationing openly with activists, counsel and others who fought for marriage equality.
Edith Windsor's case was about reclaiming some of the more than $500,000 she paid in inheritance taxes because her spouse was Thea Spyer, "one letter" she told the New York Times, away from Theo with whom she would not have had to pay. Then president Bill Clinton was pressured by Congress into signing DOMA over the fear that in the election year of 1996 other states would be forced to recognize gay marriage if the recent Hawaiian Supreme Court ruling stood. (It didn't. Voters overturned it.)
Memorial & "in lieu of flowers…"
A public memorial will be held Friday, September 15 at Riverside Memorial Chapel at 12:30 p.m. In lieu of flowers, Edie Windsor had requested that any donations in her memory be made to the following organizations:
Tributes and statements:
(Updated at 6:30 EDT with statements from Kasen Windsor and Kaplan below) 
Wrote Edith Windsor's wife, Judith Kasen-Windsor:
 "I lost my beloved spouse Edie, and the world lost a tiny but tough as nails fighter for freedom, justice and equality. Edie was the light of my life. She will always be the light for the LGBTQ community which she loved so much and which loved her right back."
Wrote Roberta Kaplan, who represented Windsor:
 "Representing Edie Windsor was and will always be the greatest honor of my life. She will go down in the history books as a true American hero. With Edie's passing, I lost not only a treasured client, but a member of my family. I know that Edie's memory will always be a blessing to Rachel, myself, and Jacob. I also know that her memory will be a blessing not only to every LGBT person on this planet, but to all who believe in the concept of b'tzelem elohim, or equal dignity for all."
Wrote the Human Rights Campaign:
Edie Windsor is a hero and civil rights icon who pushed our country closer to the promise of a more perfect union," said HRC President Chad Griffin. "Future generations will learn how she faced down discrimination with courage and defiance, and boldly challenged the United States government to treat her marriage to Thea Spyer equally under the law — as our Constitution guarantees. After Edie Windsor succeeded in defeating the Defense of Marriage Act, she continued to push forward, galvanizing the support of hundreds of thousands of Americans in support of the Obergefell case before the United States Supreme Court in 2015. We join millions across the nation in mourning the loss of Edie Windsor, and share our deepest condolences with her wife, Judith Kasen-Windsor.
Wrote Lambda Legal:
Our hearts are with Edie's wife, Judith Kasen-Windsor, their family, friends and all whose lives were changed because Edie so fearlessly stood up for herself and her community. She called for the respect and dignity denied to same-sex spouses, and the Supreme Court heard her plea. Because of Edie, we are a more perfect union. She left an indelible mark on all who knew her story, and all whose love is now recognized and protected because of the victory she helped secure for LGBT people. Thank you Edie. You will be remembered with deep respect and gratitude. We will miss you.
Wrote GLAAD:
Edie Windsor is a legend who changed the course of history for the better. She touched countless lives, and we at GLAAD are deeply saddened by her passing, but her kindness, compassion, and legacy will endure. LGBTQ advocates and organizations are planning a vigil for Edie outside of the Stonewall Inn in New York City tonight.
Wrote the ACLU:
Today, we lost one of this country's great civil rights pioneers, Edie Windsor. The wheels of progress turn forward because of people like Edie who are willing to stand up in the face of injustice. One simply cannot write the history of the gay rights movement without reserving immense credit and gratitude for Edie Windsor. We were proud to stand with Edie when she took her fight on behalf of same-sex couples everywhere to the Supreme Court. We mourn her today, as do all whom she touched in her incredible life. Edie always urged others not to 'postpone joy.' So even as we mourn this terrible loss, we also celebrate Edie, who set an example for all of us to follow.
Wrote PFLAG:
We've lost a lesbian national treasure, someone who committed to love and never stopped pushing for change and justice. Edie had such joy for life, and gave our community so much. I hope she felt our love for her, and that we gave back to her in the same way she gave to all of us.
Wrote the Civil And Human Rights Coalition:
Edie Windsor was unafraid to stand up when she knew she was being discriminated against, and ultimately, the Supreme Court agreed. Because of her bravery, the nation saw a significant leap forward for LGBTQ equality. While much work remains, the actions of courageous individuals like Edie have helped move us forward as we work towards a more perfect union. We extend our sympathies to her wife, Judith Kasen-Windsor, and all those who were touched by this amazing woman.
Wrote NYCLU Executive Director Donna Lieberman:
"Edie Windsor was a tireless champion of love, equality and fairness whose courage and tenacity transformed the landscape of civil rights across our country. As one of the first woman computer scientists at IBM, she was an early pioneer for women's rights. Her spirit and grit are etched into our national history. She was fond of reminding us, 'don't postpone joy.' While our hearts ache today, they are also filled with the joy of having known Edie as a client, a friend and a vibrant force for love and justice."
Wrote Evan Wolfson, Founder and President of Freedom to Marry
"Edie's 88 -year life embodied the story of our movement — the closet, the quiet courage, the hidden joys, the power of love, the speaking out, the reaching out to young and old, the willingness to fight, and the transformative work to win marriage — and she capped her life by touching the lives of millions. Who didn't love Edie? I mourn her as a friend and fellow freedom-fighter, and hope her widow, Judith, is comforted by knowing how Edie will continue to live in all of our hearts."
 Photo: Edith Windsor at DC Pride by Rex Block.