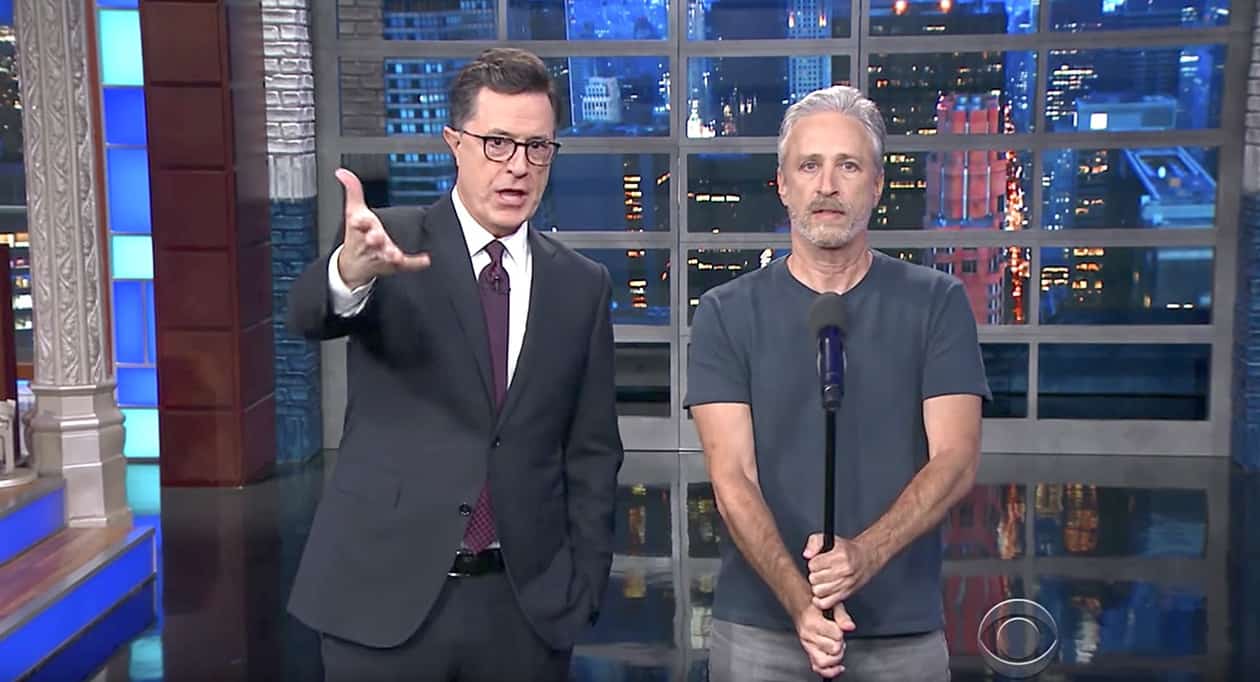 On Saturday, Donald Trump whined in a tweet that the Democrats were "dealing" with late night hosts for their "anti-Trump" material and asked if he should get equal time from them.
Late Night host are dealing with the Democrats for their very "unfunny" & repetitive material, always anti-Trump! Should we get Equal Time?

— Donald J. Trump (@realDonaldTrump) October 7, 2017
So last night, Stephen Colbert decided to give it to him, inviting Jon Stewart on to provide counterpoint to Colbert's Trump jibes. But it was not easy.
After Colbert's first joke, Stewart squeaked out: "Donald Trump, he's not a cannibal."
And the second joke forced Stewart to come up with a second compliment for Trump:
"Given the choice between having hot lava poured into my peehole, and Donald Trump being president, I choose….the latter."
A third compliment was demanded following a third joke:
"Donald Trump is great to women….good….better than Harvey Weinstein."
But a fourth jab at Trump for his ridiculous remarks about "the calm before the storm" proved too much for Stewart.
"How is all this not the storm?" Stewart exploded. "And what kind of a sociopath would use that terminology while people are still literally cleaning up from storms???"
And since that was not a compliment, Colbert was forced to provide the last counterpoint:
"Donald Trump…is not…a cannibal."
Watch: