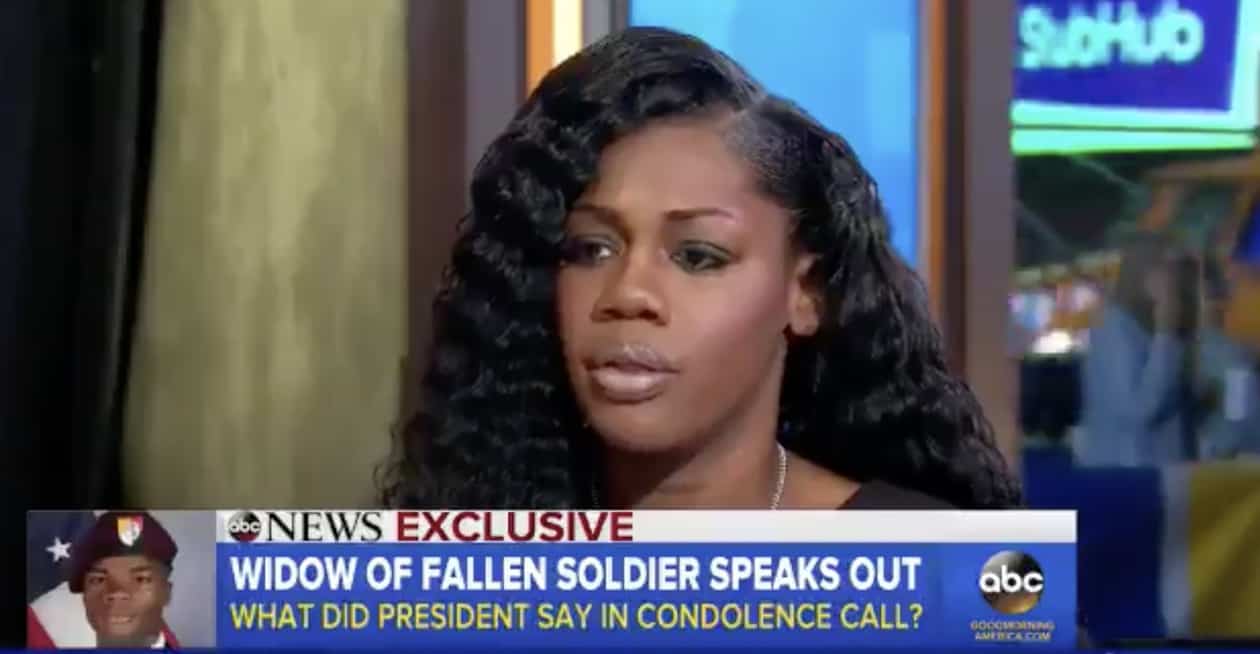 Donald Trump lashed out at the grieving widow of Sgt. La David Johnson, the soldier who was killed with three others in in Niger, after Myeshia Johnson sat down for an interview with ABC News, disputing her account of the condolence call made to her by the president.
The pregnant widow of Sgt. La David Johnson said Monday the phone call she received from President Donald Trump before meeting her husband's body at Dover Air Force Base made her more upset as the president struggled to remember her spouse's name.
"I heard him stumbling on trying to remember my husband's name, and that's what hurt me the most because if my husband is out there fighting for our country and he risked his life for our country, why can't you remember his name?" Myeshia Johnson told "Good Morning America." "And that made me cry even more."
…"It made me cry because I was very angry about the tone of his voice and how he said it," Johnson said. "He couldn't remember my husband's name. The only way he remembered my husband's name was because he told me he had my husband's report in front of him, and that's when he actually said La David."
Johnson, of Miami Gardens, Florida, corroborated the story of Rep. Frederica Wilson, D-Fla.
"Whatever Miss Wilson said was not fabricated. What she said was 100 percent correct," Johnson said.
Watch Johnson's interview with George Stephanopoulos:
https://www.youtube.com/watch?v=3bgvKSV1stI
Tweeted Trump shortly after the interview: "I had a very respectful conversation with the widow of Sgt. La David Johnson, and spoke his name from beginning, without hesitation!"
https://twitter.com/realDonaldTrump/status/922440008971292672
Trump also gave an interview to Maria Bartiromo on Sunday in which he talked about the phone call to Johnson, and said "I was so nice."
Describing John Kelly's reaction to Congresswoman Frederica Wilson telling reporters that Trump said La David Johnson "knew what he signed up for", Trump says to Bartiromo that the Chief of Staff "actually couldn't believe it. Actually, he said to me 'Sir, this is not acceptable. This is really not' – and he knew – I was so nice."
Watch:
https://www.youtube.com/watch?v=wWB0jG_0nk0