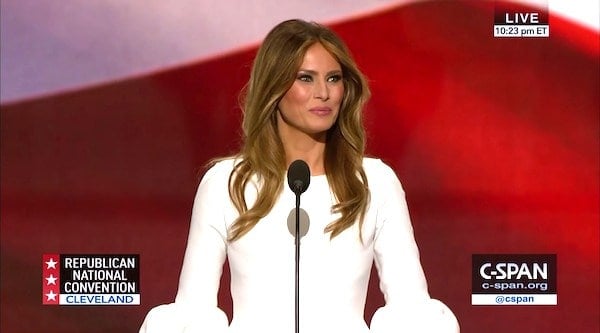 A new report in Vanity Fair describes Melania Trump's role in the decision her husband made to run for president, saying – as many suspected – that she had no desire to be first lady.
There may never have been a First Lady less prepared for or suited to the role. "This isn't something she wanted and it isn't something he ever thought he'd win," one longtime friend of the Trumps' told me. "She didn't want this come hell or high water. I don't think she thought it was going to happen."
But she was instrumental in pushing him toward running, VF also reports:
…it was in part Melania's impatience with her husband's dithering that helped push Trump to declare his candidacy. "She knew it was in his blood," Stone said. "He always wanted to run. She is the one who pushed him to run just by saying run or do not run. I don't think she was ever too crazy about it." She knew her husband wanted to run for president. And she knew that, if he didn't, he was likely to be knocking around their gilded triplex in Trump Tower, muttering about how he should have done so. "She said, 'It's not my thing. It's Donald's thing,' " according to Stone. "And I think she understood he was going to be unhappy if he didn't run."
She didn't want him at home, so we got him.