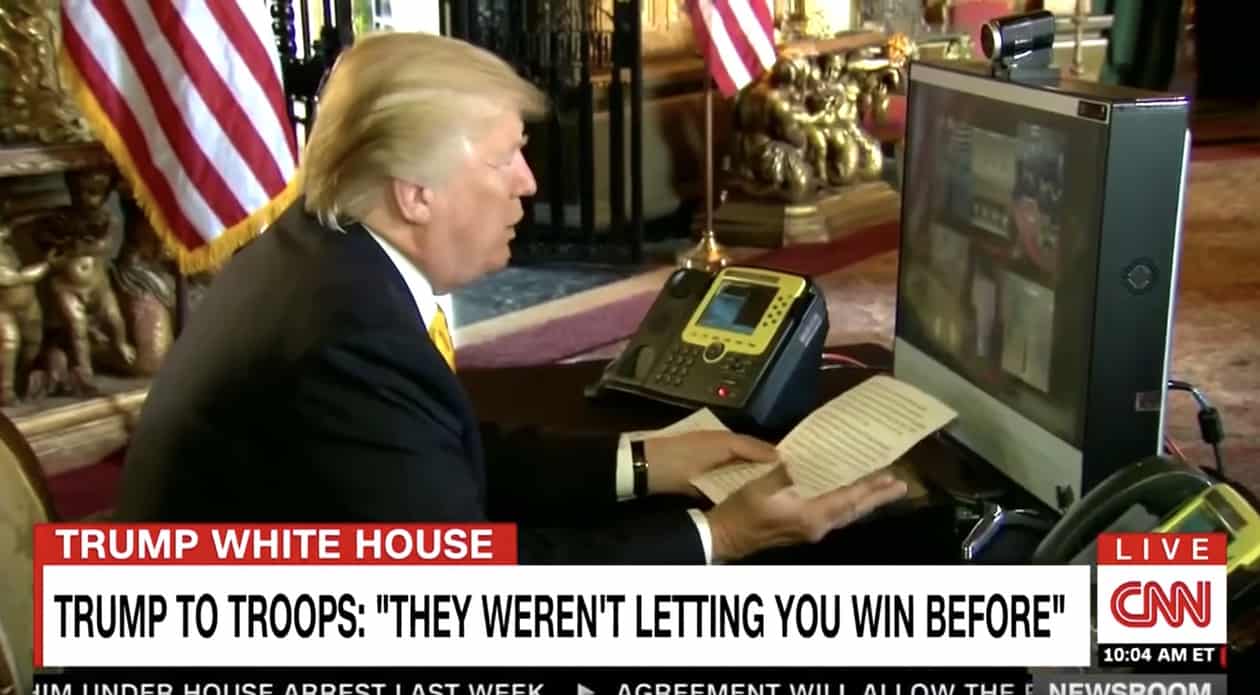 Donald Trump delivered a Thanksgiving message to troops on Thursday that was seen as "somewhat insulting" by at least one military analyst.
In the call, made from Trump's Mar-a-Lago resort, the president dinged the previous administration for its efforts combatting ISIS, claiming that the U.S. is now "winning" against the terror group "because I'm letting you do your job."
"We have been winning," Hertling contented on CNN. "You're talking to soldiers and military personnel around the world who have been in this fight for 17 years and to suddenly be told they're winning now when they weren't winning before is somewhat insulting, first of all."
Trump also boasted of the strong U.S. economy in his call to the deployed troops.
On that, Hertling said "the comments about the economy and where the economy is growing — deployed service members don't want to hear about that."
Watch:
https://youtu.be/1kb45EtOg5U
Trump also visited a Coast Guard station telling them that their "brand went up" because of their response to Hurricane Harvey, The Hill reports:
"It is an honor to be here, I have to tell you. You know, the Coast Guard, always respected, but if you were looking at it as a brand, there's no brand that went up more than the Coast Guard, with what happened in Texas," Trump told service members during a visit to the Coast Guard's Lake Work Inlet Station in Florida…
…Trump then noted the branch's work in assisting after Hurricane Irma and Hurricane Maria, which damaged Florida and Puerto Rico.
"I think that there is no brand — of any kind, I'm not just talking about a military branch — that has gone up more than the Coast Guard," Trump said.
And he was busy on Twitter as well. Trump delivered a Thanksgiving message to the nation, claiming "the enthusiasm in this country has never been higher."
https://twitter.com/realDonaldTrump/status/933720598383026176
But soon by thanksgiving night he was praising Sean Hannity…
https://twitter.com/realDonaldTrump/status/933918671503753216
And Friday morning woke up and attacked the NFL…
https://twitter.com/realDonaldTrump/status/934026050388013056
Then he began bragging about all the work he's getting done in between "quickly" playing golf with Tiger Woods and Dustin Johnson:
https://twitter.com/realDonaldTrump/status/934029886842458112
https://twitter.com/realDonaldTrump/status/934031535757582336
https://twitter.com/realDonaldTrump/status/934080974773776384