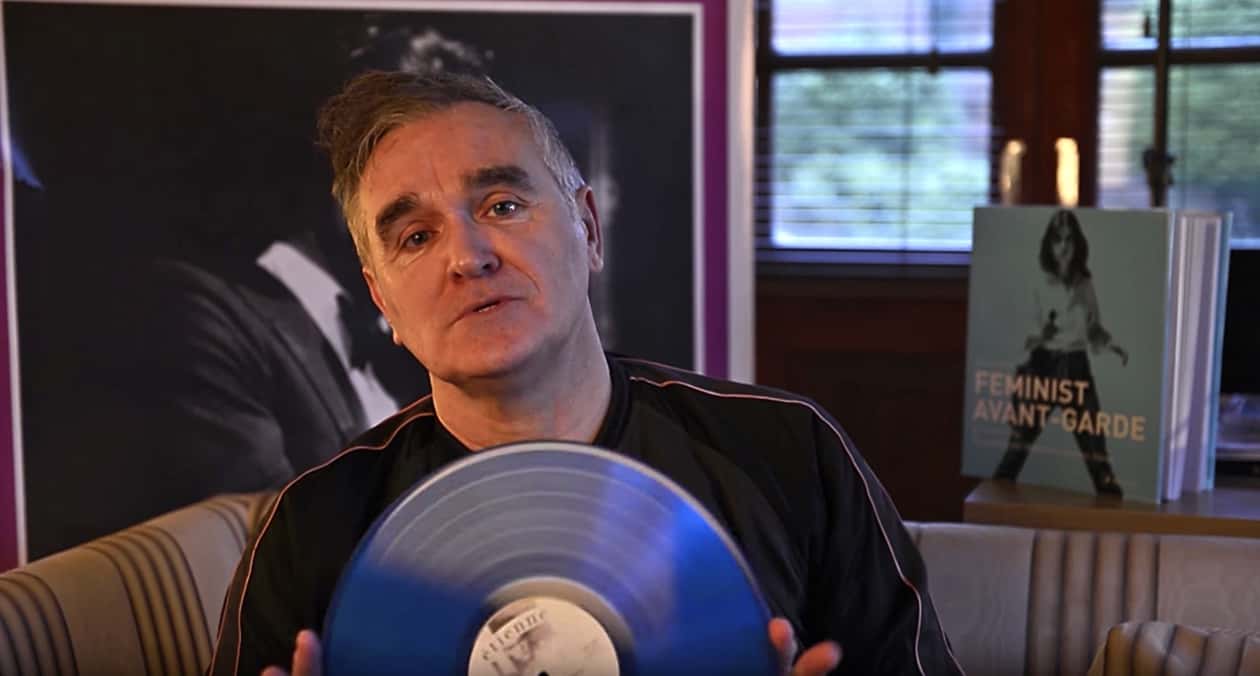 In a new video posted to his nephew's YouTube account, Morrissey is defending himself against an article that appeared earlier this year that appeared in the German publication Der Spiegel.
"Please, please, don't believe what other people say about me," pleads Morrissey in the video. "But believe whatever you think when you see me and you hear me, which is quite a different thing."
Morrissey's 'State of the Union' address looks back upon his year, thanks fans, laments the state of world politics, and denounces the press for twisting facts.
He also says he has been grilled by the Secret Service over his anti-Trump remarks.
In the Der Spiegel interview, Morrissey said that he had the chance to kill Trump by pushing a button he'd do it "for the safety of humanity."
"Says the former Smiths frontman in the clip:
Suddenly, I was sympathizing with sexual harassment. I was apparently sympathizing with pedophilia, I was sympathizing with rape, I was sympathizing with everything that would persuade anybody on the planet to stop listening to me. Of course, none of those assumptions are true. I do not sympathize with anything like that. You can hear it in the tone of my voice.
However, this is the world we now live in with the print media. It seems to me that, in the first place, they get very angry or very excited if you stop to say something that people are listening to or that reflect the will of the people. They get very nervous. They won't allow it. They shut it down and so forth.
But also, it seems to me that, in England at the moment, the right wing has adopted a left wing stance, and the left wing has adopted a right wing stance, so everybody's confused, and nobody seems to know what people mean. This shuts down free speech. This shuts down any open debate about anything. And consequently, we're all in a mess, and we don't know where we stand.
So I fear that the campaign for Low In High School and for the surrounding singles was derailed and damaged purposely by the haters. They're not listening to the music. They're not listening to anything, really. They see my name, and they want to get rid of it as quickly as possible. And as I said, in many ways, they do succeed. There's not really that much you can do about it. You have to live with it.
He also says that he was questioned by the U.S. Secret Service over remarks he made about Trump in the interview and wonders if he'll be allowed in the U.S. again:
 "I do understand their position. So that went very, very well, and they assured me that they have no cause for concern. But it was a direct result of Der Spiegel that I was cross-examined, which is very, very sad. So congratulations, Der Spiegel. You achieved everything that you set out to do. Whether again I'm allowed free access to America, I really don't know. I have to wait and see if I can enter the country again."
And he lashed at the press:
"I think critics consider all the things that are important to your audience and therefore they consider all the things that would turn your audience against you and that is what they accuse you of in order to make your audience angry with you. Because they know there's no other way, especially when you've been around as long as I have, and I've been assassinated many times."
Reflecting on the past year, Morrissey said he wanted to remember the children who were killed in the Manchester bombing because victims of terrorism are quickly forgotten.
"I wish you a Christmas free of terrorism, and these days that's all we can ask for."
Watch: