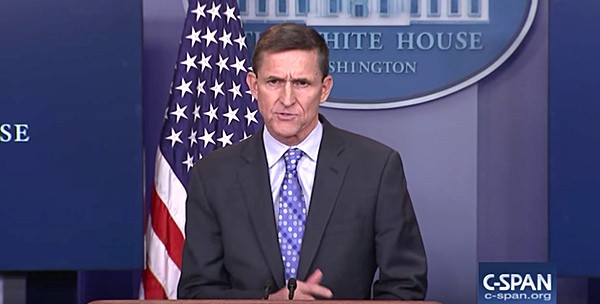 NBC News has an excellent timeline on the events that have unfolded since Michael Flynn's interview with the FBI, exactly one year ago today, and some revelations:
A year ago today, Donald Trump's newly sworn–in national security adviser, Michael Flynn, met privately in his West Wing office with FBI investigators interested in his communications with Russia's ambassador, without a lawyer or the knowledge of the president and other top White House officials, according to people familiar with the matter…
…A lawyer for the National Security Council typically would be informed of such a meeting and be present for it, one person familiar with the procedures said. But that didn't happen in this instance, and Flynn didn't include his own personal lawyer, two people said. He met with the two federal agents alone, according to these people.
"No one knew that any of this was happening," said another senior White House official who was there at the time.
"Apparently it was not clear to Flynn that this was about his personal conduct," another White House official said. "So he didn't think of bringing his own lawyer."
More at the link…
Other new developments:
NBC News also has learned that former acting attorney general Sally Yates, who informed the White House about Flynn's interview two days after it took place, has cooperated with the special counsel. CIA Director Mike Pompeo, who was allegedly asked by Trump to lean on Comey to drop his investigation, has also been interviewed, according to people familiar with the inquiry.
One person familiar with the matter described Pompeo, Coats and Rogers as "peripheral witnesses" to the Comey firing. Attorney General Jeff Sessions, who played a key role in Comey's departure and was a top adviser on the Trump campaign, was interviewed by Mueller last week as the investigation inches closer to Mueller's team possibly questioning the president himself.
Trump's former chief strategist Steve Bannon is expected to meet with Mueller's team by January 31, according to a person familiar with the discussions.
Read the full NBC News article for a good summation of what has been an extraordinary year.