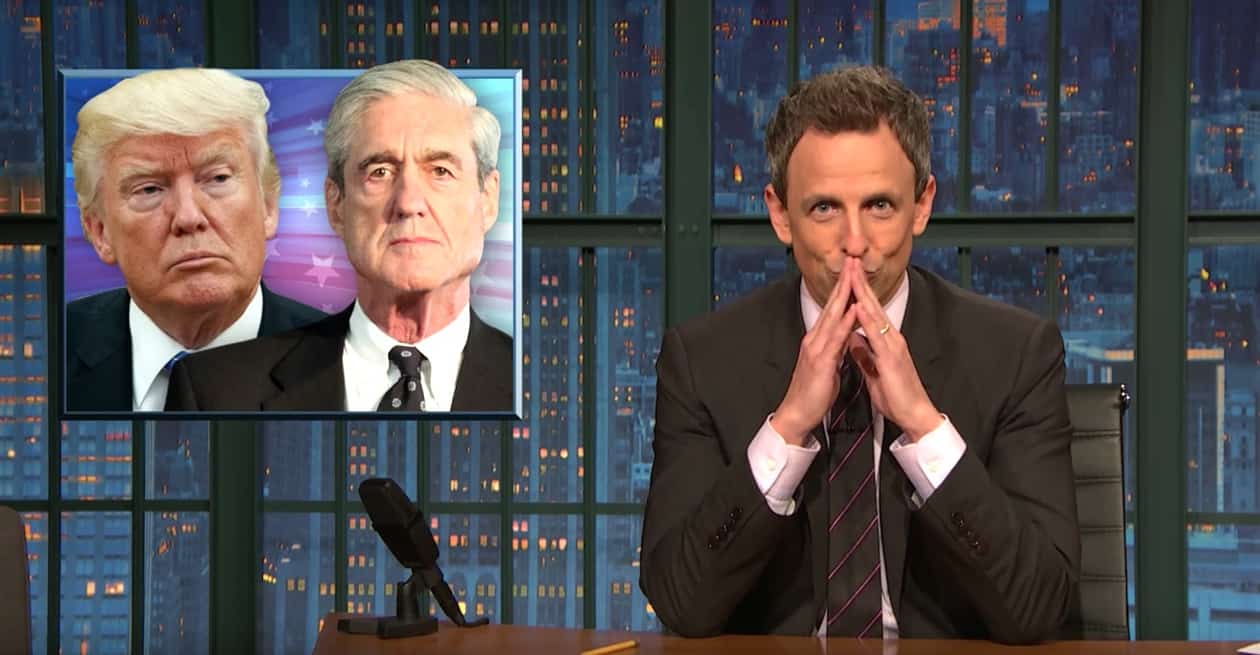 Seth Meyers dove in to Trump's attempt to fire special counsel Robert Mueller before being blocked by his lawyer Don McGahn, who threatened to quit if Trump did so.
Said Meyers: "Amazing. Trump is mad that he's being investigated for obstruction of justice so his plan to get out of it is to obstruct justice. If Trump was the captain of the Titanic, his plan would be to hit a second iceberg."
Meyers also looked at Trump's "concocted reasons" for why Mueller couldn't be fair and should be fired, the most absurd being that Mueller was upset over fees at one of Trump's golf courses in 2011.
Quipped Meyers: "So you think Robert Mueller has been lying in wait all these years, quietly biding his time so that he could finally get his revenge over golf fees?"
"Why would Donald Trump do this?" Meyers asked. "Why does he keep going out of his way to interfere with the investigation?"
"There are two possible answers," Meyer added. "One, he's guilty. Or two, he asked the FBI director for a pledge of loyalty, he asked him to stop his investigation into Michael Flynn, fired the FBI director, admitted he fired him because of the Russia investigation, bragged to the Russians that he did it because of the Russia investigation, pressured the attorney general not to recuse himself, pressured the heads of the intelligence agencies to intervene and tried to fire the special counsel who took over the Russia investigation…because he's innocent?"
Meyers then turned to yesterday's news of a call Trump made to Deputy FBI Director Andrew McCabe the day James Comey was fired. Trump was upset that Comey was offered a government plane to fly home.
When Trump didn't get the answer he wanted, he "turned on McCabe, suggesting he ask his wife how it feels to be a loser—an apparent reference to a failed campaign for state office in Virginia that McCabe's wife made in 2015."
Gasped Meyers: "You told him to ask his wife what it's like to be a loser?! You should ask your wife what it's like to be married to one!"
"Awful," Meyers added. "You are awful."
Watch:
https://www.youtube.com/watch?v=yN0DQFv_-vI