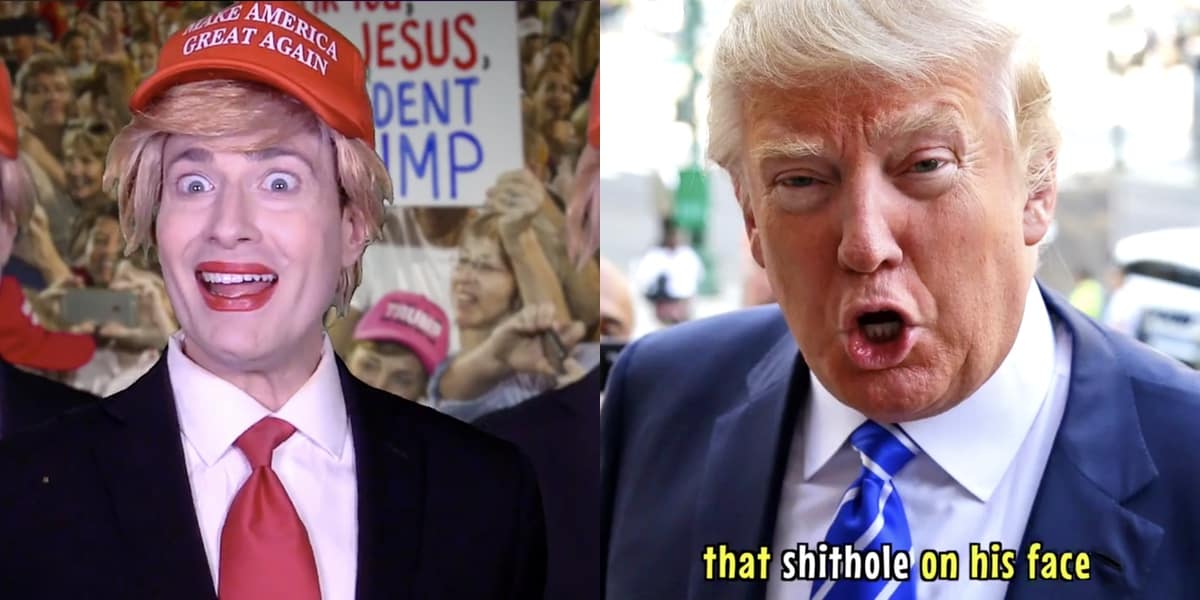 If you need something to get you jazzed this Monday morning, look no further. Randy Rainbow channels pop songstress Meghan Trainor in his new video "All About His Base" which takes a bouncy look at the lies delivered by various members of the Trump administration.
It also comes up with some of the best lyrics Mr. Rainbow has delivered. "All about his base" lends to some choice rhymes (see photo above).
Watch:
Rainbow was recently interviewed by Mother Jones about his videos.
He said: "My primary goal is to take this horrendous stuff that's happening—this aggravating, frustrating, day-to-day mess—and make people laugh. Comedy is a great unifier. I hear from people every day from both sides saying, 'We don't have the same beliefs, and, you know, I hate gay people and I hate white people and I hate black people and I'm an awful person—but I laughed at your video!'"
OF his success, Rainbow added: "This last year has changed my life. My YouTube channel is making more money than before, and this translates to other gigs and television appearances. I'm about to kick off a tour with Live Nation. I was onstage since I was a kid doing musical theater, but making these videos is so isolating—there's nobody there but me and my cat. Then suddenly I'm flying to places I've never been and selling out houses. When everyone knows the words and there's a line out the door—that feels crazy! To go from the isolation of my little apartment to being stopped on the street, I guess, is the most fun part. I don't think there's a childhood hero I haven't heard from yet."