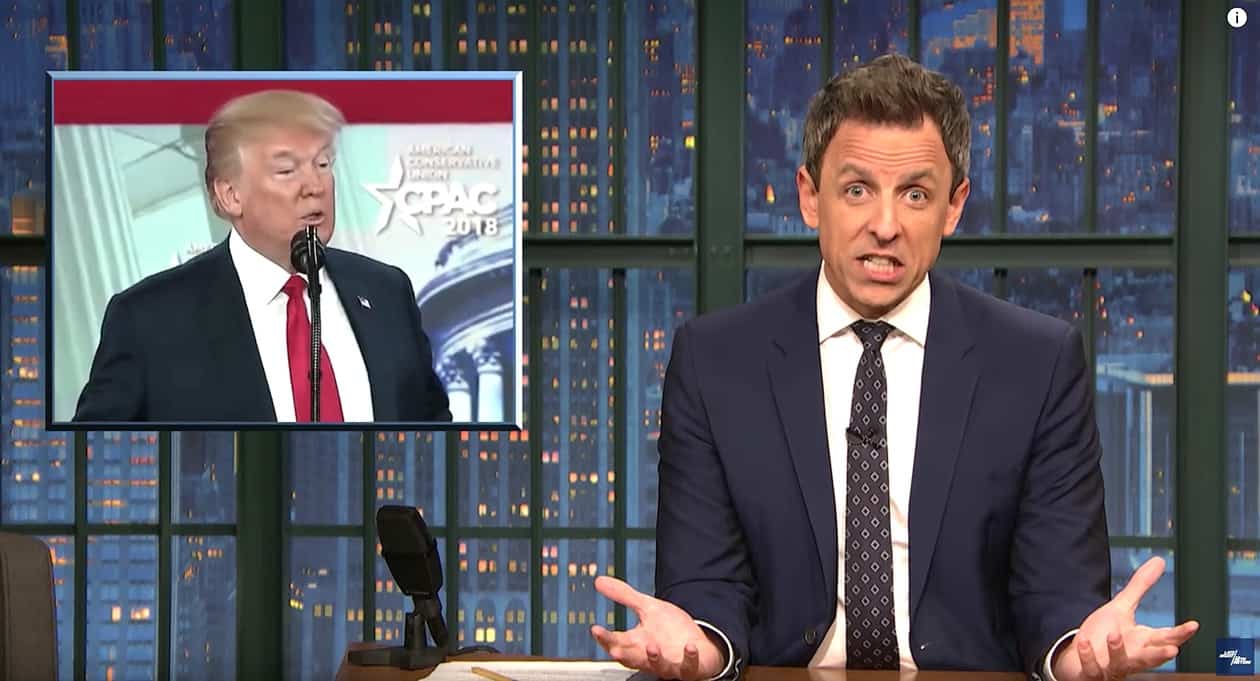 Returning to Late Night, Seth Meyers took 'A Closer Look' at Trump's reaction to the Parkland shooting and his insane follow-up ideas to solve the problem.
Trump's claim this week that "I really believe that I'd run in there even if I didn't have a weapon" was mocked by Meyers, who snapped, "There's really nothing worse than a fake tough guy."
"Nothing about that [claim] is believable!", added Meyers. "Forget running into a school to confront a shooter, I don't think you'd run anywhere period. You can't even be bothered to walk down a flight of stairs…Then again, I said before that I didn't think he'd run and man, did I get burned."
Meyers then moved on to Trump's plan to arm teachers, a plan the president clarified by explaining how he only means the teachers that have the "natural talent" to shoot a gun, like people who can putt well in golf.
Quipped Meyers: "Wow, even when he's laying out his plan to prevent school shootings, he can't hide how much he'd rather be playing golf."
He later added: "This is one of the worst things about having Trump as president. Every time he goes on TV and blurts the dumbest things in the world, the rest of us have to debate it like it's a real idea. He says, 'Hey, I think we should take incredibly stressed-out people who make $30,000 a year and give them guns' and then Wolf Blitzer has to stand there and go, 'Sh*t, well let's ask the panel.'"
Finally, Meyers concluded, "Teachers need supplies, not guns. The only guns that should be in schools are glue guns. And they should be used the way all students use them: to glue the shop teacher's butt to his chair."
Watch: