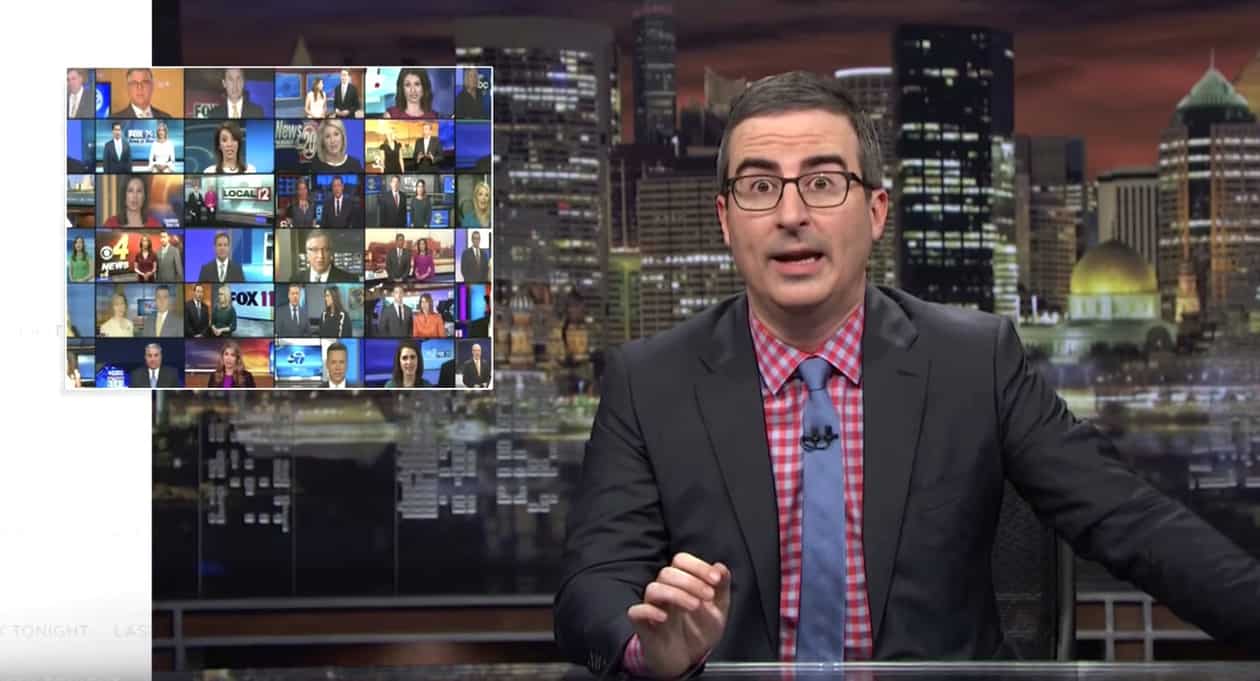 While surfing the web over Easter weekend, you may have run across a viral clip put out by Deadspin (below) which features the talking news bots of Sinclair Media stations repeating the same alarmist set of talking points about "fake news".
Wrote Deadspin: "You might remember Sinclair from its having been featured on John Oliver's Last Week Tonight last year, or from its requiring in 2004 of affiliates to air anti-John Kerry propaganda, or perhaps because it's your own local affiliate running inflammatory "Terrorism Alerts" or required editorials from former Trump adviser Boris Epshteyn, he of the famed Holocaust Remembrance Day statement that failed to mention Jewish people. (Sinclair also owns Ring of Honor wrestling, Tennis magazine, and the Tennis Channel.)"
Sinclair, as Oliver pointed out on his show, would reach 72% of America's households if the acquisition of Tribune Media is approved.
Added Deadspin: "The net result of the company's current mandate is dozens upon dozens of local news anchors looking like hostages in proof-of-life videos, trying their hardest to spit out words attacking the industry they'd chosen as a life vocation."
Watch the clip that has gone viral:
How America's largest local TV owner turned its news anchors into soldiers in Trump's war on the media: https://t.co/iLVtKRQycL pic.twitter.com/dMdSGellH3

— Deadspin (@Deadspin) March 31, 2018
The "fake new" bashing promo script goes like this: "I'm [we are] extremely proud of the quality, balanced journalism that [proper news brand name of local station] produces. But I'm [we are] concerned about the troubling trend of irresponsible, one-sided news stories plaguing our country. The sharing of biased and false news has become all too common on social media. More alarming, national media outlets are publishing these same fake stories without checking facts first. Unfortunately, some members of the national media are using their platforms to push their own personal bias and agenda to control 'exactly what people think'… This is extremely dangerous to our democracy."
Well, John Oliver had a follow-up on Last Week Tonight last night.
Said Oliver: "Recently, Sinclair took their game to a new level. A few weeks back, a script leaked for a statement they wanted local anchors to deliver, warning that national media outlets were publishing fake stories, echoing of one of Trump's favorite talking points..(plays statement)….That statement is creepy enough, but when you see just how many local stations were forced to read it and you watch them together, as many have been doing online in the last couple of days, you begin to realize the true effect of Sinclair's reach and power."
https://www.youtube.com/watch?v=kCkuuzDOKwE
Added Oliver: "Yeah. Nothing says 'we value independent media' like dozens of reporters forced to repeat the same message over and over again like members of a brainwashed cult. I guess what I'm saying here, Sinclair, is that as a news organization, I believe you make no sense."
And here's Oliver's show from last year if you missed it: