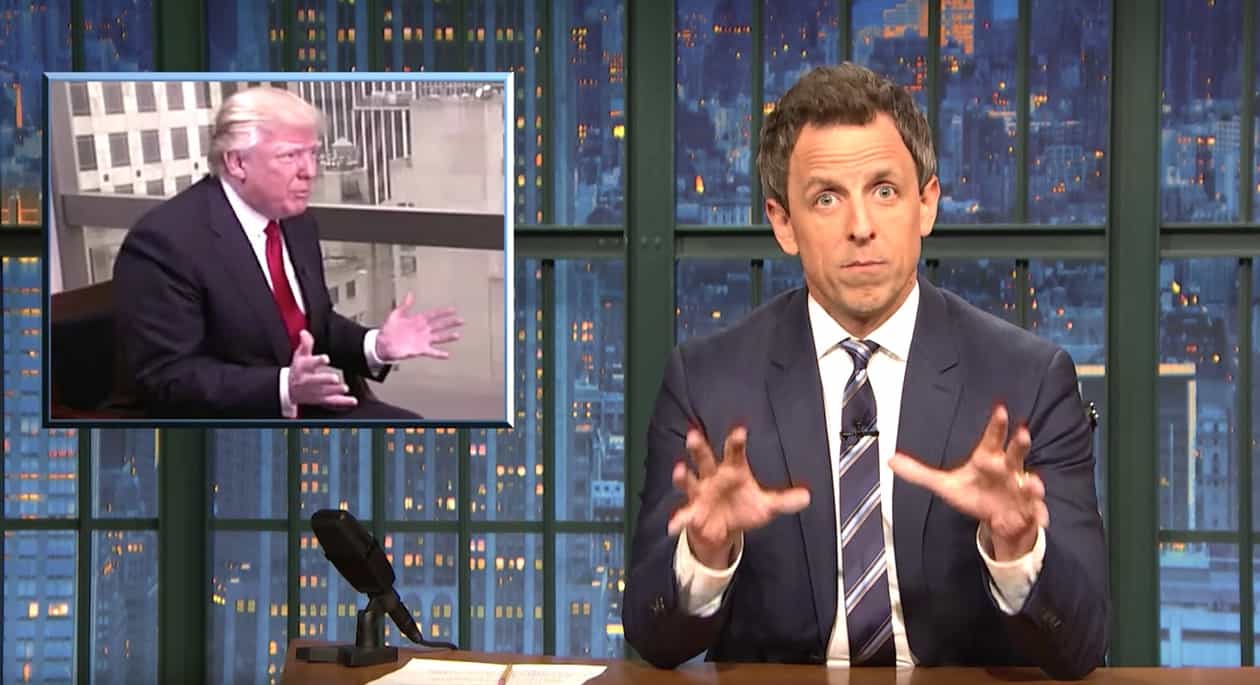 Seth Meyers opened his Closer Look segment last night with the excerpts from the James Comey book in which Comey said Trump asked him to investigate allegations of the infamous "pee pee tape".
Wrote Comey in the book: "He brought up what he called the 'golden showers thing'… adding that it bothered him if there was 'even a one percent chance' his wife, Melania, thought it was true…He just rolled on, unprompted, explaining why it couldn't possibly be true, ending by saying he was thinking of asking me to investigate the allegations to prove it was a lie. I said it was up to him."
Said Meyers: "Oh my God, it's real. It has to be! Why would you ask the FBI Director to investigate a pee tape if you knew for a fact the the pee tape didn't exist? That's like me saying, 'Could you make sure there isn't a tape of me in 1994 doing 'Thunder Road' at karaoke and then barfing and then slipping on the barf and farting?'"
Meyers went on to parse Trump's response in an interview he gave shortly after the "golden showers" dossier came out.
Sadi Meyers: "Now, pretend you're a normal, decent person who just got elected president and someone asks you if there's a pee tape with you in it…You'd say something like, 'That's insane!' or 'What are you talking about?!'"
Instead, Trump said this to FOX News host Ainsley Earhardt: "There's never going to be a tape that shows up. There's never going to be anything that shows up. Now, I would be very embarrassed if a tape actually showed up, saying something like that. It would be double embarrassed because I'm saying there is no tape."
Quipped Meyers, repeating Trump's line: "If it came out, I would be embarrassed. That's like if your girlfriend said, 'Are you cheating on me?' and you said, 'Look into my eyes, because what I'm going to tell you is 100 percent true: It would suck if you found out about that.'"
Watch: