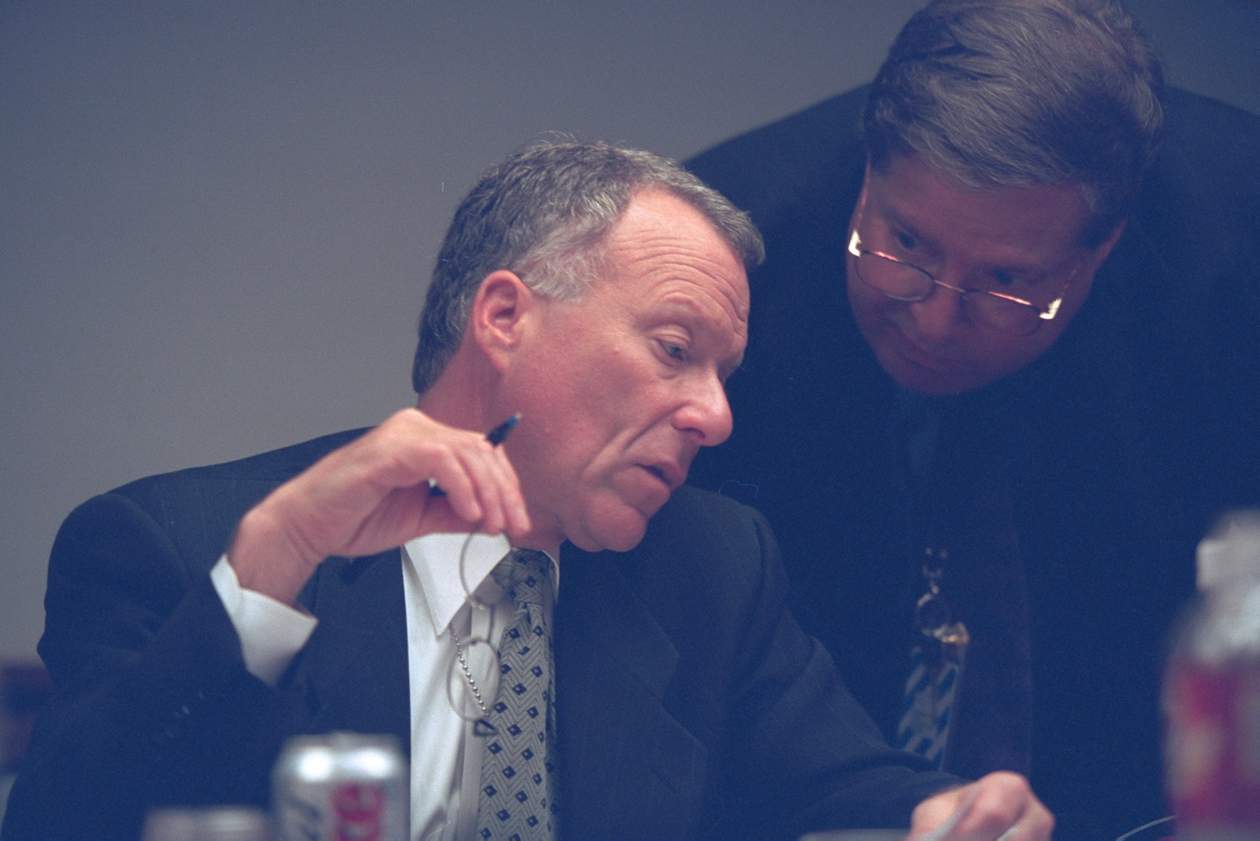 Donald Trump has pardoned Scooter Libby, Vice President Dick Cheney's former Chief of Staff who was convicted in 2007 of lying to the FBI and obstructing the investigation into the leak of the identity of covert CIA operative Valerie Plame.
Some are speculating that the pardon was a message from Trump to Manafort and Flynn that they will be pardoned if they protect him.
The full White House statement:
Today, President Donald J. Trump issued an Executive Grant of Clemency (Full Pardon) to I. "Scooter" Lewis Libby, former Chief of Staff to Vice President Richard Cheney, for convictions stemming from a 2007 trial.  President George W. Bush commuted Mr. Libby's sentence shortly after his conviction.  Mr. Libby, nevertheless, paid a $250,000 fine, performed 400 hours of community service, and served two years of probation.
In 2015, one of the key witnesses against Mr. Libby recanted her testimony, stating publicly that she believes the prosecutor withheld relevant information from her during interviews that would have altered significantly what she said.  The next year, the District of Columbia Court of Appeals unanimously reinstated Mr. Libby to the bar, reauthorizing him to practice law.  The Court agreed with the District of Columbia Disciplinary Counsel, who stated that Mr. Libby had presented "credible evidence" in support of his innocence, including evidence that a key prosecution witness had "changed her recollection of the events in question."
Before his conviction, Mr. Libby had rendered more than a decade of honorable service to the Nation as a public servant at the Department of State, the Department of Defense, and the White House.  His record since his conviction is similarly unblemished, and he continues to be held in high regard by his colleagues and peers.
In light of these facts, the President believes Mr. Libby is fully worthy of this pardon.  "I don't know Mr. Libby," said President Trump, "but for years I have heard that he has been treated unfairly.  Hopefully, this full pardon will help rectify a very sad portion of his life."
Plame, appearing on MSNBC on Friday, suggested that Trump is telegraphing a message to Manafort and other aides, including former national security adviser Michael Flynn and son-in-law Jared Kushner, who are key figures in the Russia investigation.
"This is definitely not about me. It's absolutely not about Scooter Libby. This is about Donald Trump and his future," Plame said before the formal announcement hit. "It's very clear that this is a message he's sending that you can commit crimes against national security and you will be pardoned, so I think he's got an audience of three right now. That would be Manafort, Flynn and Kushner, and perhaps others."
"The message being sent is you can commit perjury and I will pardon you if it protects me and I deem that you are loyal to me," she added.
And the irony of the pardon, on the day when Trump attacked former FBI director James Comey for being a liar and a leaker, wasn't lost on anyone.
Calling @Comey a "proven LEAKER & LIAR" while you're about to pardon Scooter Libby, who leaked the identity of a covert CIA employee and was convicted for lying about it to the FBI — well, that's quite a thing.

— Jake Tapper (@jaketapper) April 13, 2018