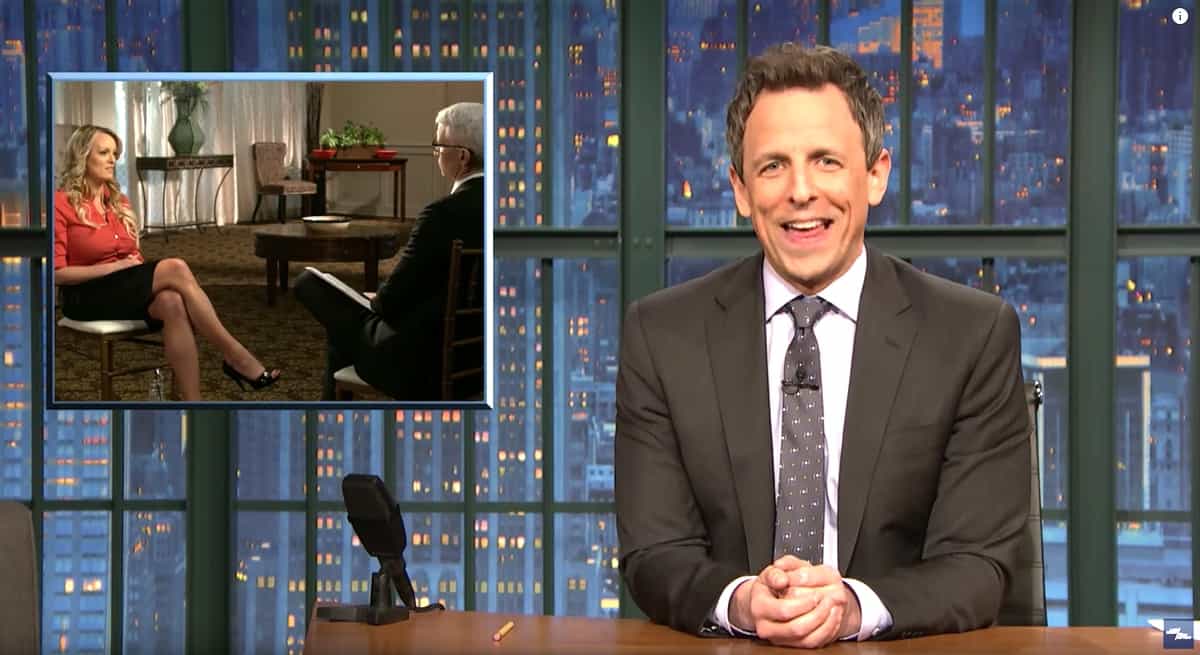 Seth Meyers took 'A Closer Look' at an interview that Stormy Daniels' lawyer Michael Avenatti gave to Megyn Kelly in which he said there was more to the 60 Minutes interview that wasn't revealed, specifically that Daniels could describe Trump's dick in great detail.
"Great detail? I think you mean horrific detail," Meyers responded. "I don't want to think about Donald Trump's penis because if I do, something tells me I'll never be able to eat hot fries ever again."
"Also, she can describe it in great detail?", Meyers added. "You know what that means? They did it with the lights on."
And Anderson Cooper was as disgusted as the rest of us (see segment below – Coop's reaction is a visual best seen for yourself…).
Meyers also looked at Trump's cabinet shuffling, riffing on his latest joker suggestion.
Said Meyers: "Trump has been upset for months that his attorney general Jeff Sessions recused himself from the Russia investigation. He wants someone who could exert influence over the probe and potentially shut it down. Which is why it was alarming today when CNN reported that Trump floated replacing Sessions with Scott Pruitt, the head of the Environmental Protection Agency, as recently as this week….Trump just keeps moving staffers around. It's like he's rearranging deck chairs on the Titanic after it already sunk. He moved John Kelly to chief of staff, Ronny Jackson to Veteran Affairs, now he wants to move Pruitt to attorney general. Our only hope is that he gets carried away and accidentally replaces himself."
And Meyers mocked Paul Manafort's "resting crime face."
"I got to say, I'm not surprised they're investigating Paul Manafort for possibly colluding with the Russians. I mean, look at him. He has resting crime face. He looks like a guy who gives you instructions in 'Grand Theft Auto.'"
Watch:
https://www.youtube.com/watch?v=iaoD6pfFuTo