In the 1960s, this civil rights anthem by Sweet Honey In The Rock proclaimed that no matter how dark times have become, we need to keep our eyes on the prize. Sometimes that means all we can do is "hold on."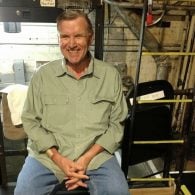 Never has that song been more important than now.
Our very existence as an American democracy is at stake. Everything we value — our environment, feeding the poor, civil rights, voting rights, safety for American workers and economic fairness — is being dismantled by this administration. Day in and day out these valued principles are systematically being destroyed by Donald Trump.
The failure of the Republican Congress to exert their power to check the 'Madness of King Donald' is one of the epic moral failures in modern history.
There is only one opportunity that the lovers of democracy have to save it and it is the midterm elections on November 6th. Taking back Congress is the only prize and no matter how hard the road is to that day we can't lose focus . Failing in that goal would put our country in great peril. In a Washington Post poll published last year, 52% of Republicans said that they would support King Donald postponing the 2020 elections.
Really think about it. Just take a moment and mull over that figure.
The last thing the racist, anti-democratic force surrounding Trump wants is for us to keep our eyes on the prize – victory on November 6th.
To distract us, they have adopted the five classic building blocks in the fascist playbook to attempt to shatter a working democracy.
1. If you tell a lie and get caught, just tell a bigger lie so people forget the last one. Science and knowledge won't be respected in the confusion.
2. Create total chaos so the public is constantly caught off guard and loses focus. The purpose of the chaos is to make it more difficult for the forces of the opposition to present a united front.
3. Create distrust of the historic and cherished institutions of a country. Discredit the press, undercut law enforcement and any institutions that have the credibility to stop the march toward fascism.
4. Find scapegoats that will instill fear into the working class. The Nazis accused the Jews of infesting Germany with every conceivable horror possible. We are seeing the same pattern and the same word at this moment with immigrants, LGBTQ Americans, and other marginalized groups.
5. Hide behind the law when you commit your outrages as this administration has with the concentration camps for children. Several states have in the last month banned LGBTQ Americans from adopting or fostering children. Does that mean those LGBT Americans who have currently adopted children in those states will see law enforcement come in and take their children out of their homes? After all, they would simply be enforcing the law.
Sounds like a stretch, doesn't it? Don't f—ing count on it.
Loyal and patriotic Americans have only one chance to save our democracy and the values and principles we cherish as a nation. That is to concentrate with every fiber in our bodies on the midterm elections. That is the prize.
Winning the midterms means having the power to stop the spread of fascism by gaining subpoena power and the power of impeachment, to keep funding the Mueller investigation and acting on his recommendations, to stop the destruction of progressive programs and at last return to American values.
Yes, of course we have to fight other battles like saving the children from concentration camps. However, we can't allow King Trump's contrived attempts at whiplash to keep us from our focus and fighting for victory in November
It is going to require real discipline on our part. We have to rein in our self-righteousness and even hold our noses and vote for candidates that we don't totally agree with on the issues. There are two votes that count most in Congress and those are for Senate Majority Leader and Speaker of the House.
We can settle our minor differences once our democracy is saved from creeping fascism. Failure to focus, to organize, to give like we have never given before, to vote in record numbers, to present a united front and utilize every resource at our disposal will increase the risk of our failure on November 6.
Let me be clear.
Failing on November 6 (just four months away) will mean that free elections in 2020 may be unlikely and our democracy could end. That is not hyperbole. We don't get a rerun after that date.
This is our moment.
This is one of the great battles of our time and any time in the American journey. This is a time for real patriots to stand for all that is good. Let's honor America's young and rocky history with our own courage and bravery.
Courage is just a lack of options. We are rapidly running out of options. In just four short months, our path into the future as Americans who love justice, freedom and democracy will be decided.
Will you join the battle? Will you make the sacrifices that will be required of us? Will you refuse to be distracted by the forces of evil and keep your eyes on the prize?