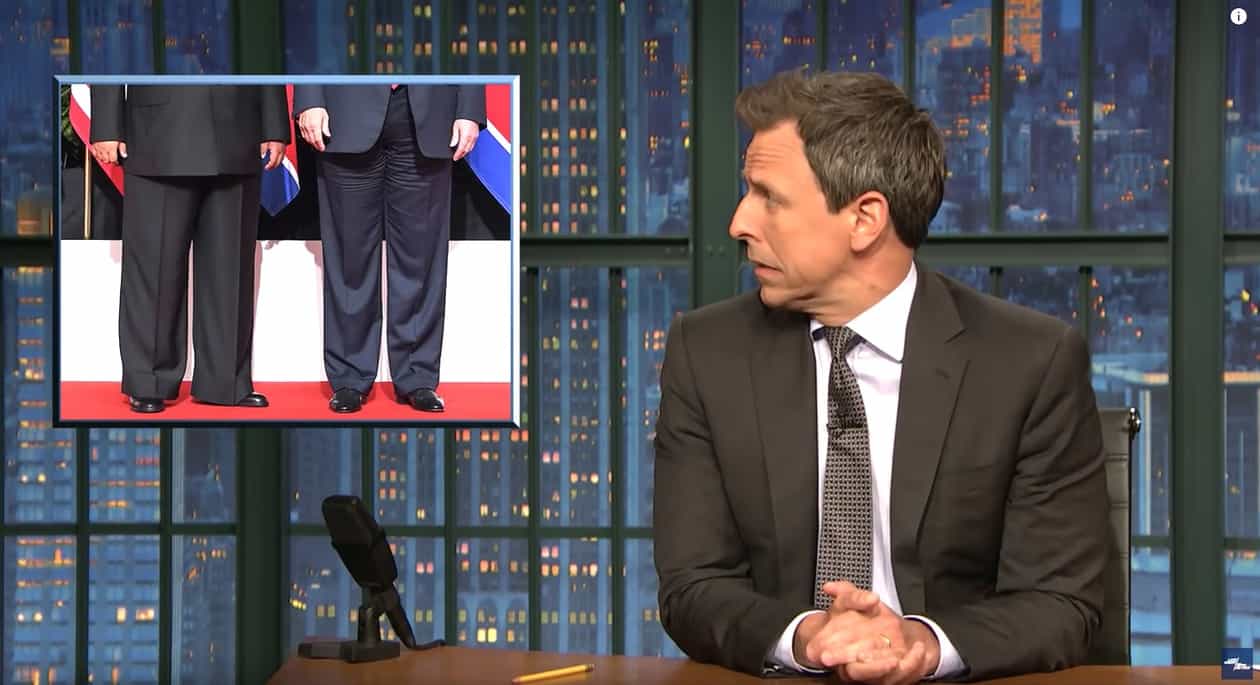 Seth Meyers launched his analysis of the North Korean summit between Donald Trump and Kim Jong Un with a note of optimism:
"No matter your feelings on Donald Trump, he is currently attempting diplomacy over war, which is undeniably the better option. That said, I do have some concerns based on some things Donald Trump did and said yesterday and also based on the fact that he is Donald Trump."
Before quickly getting into the details of the meeting, including what they wore:
"Why can't these guys find a suit that fits them? They look like they shop at a store called Business Pajamas. It looks like a promo picture for a movie called Honey, I Shrunk the Dictators."
Meyers made note of how odd it seemed to see them sit down for a one-on-one meeting.
"They look like they [got] set up on a blind date by their weirdest friend," added Meyers, who then showed a photo of Dennis Rodman. "Oh what? They were?"
"After watching the summit you might actually think you OD'ed on PotCoins from how often Trump complimented brutal dictator Kim Jong Un," said Meyers, who then played a montage of Trump complimenting Kim eight times.
"This is a guy who starves his own citizens and assassinates people with anti-aircraft guns. You're talking about him like he started Apple in his garage. But I guess it shouldn't surprise me that Trump's idea of talent is getting rich by taking over your dad's business. Trump was born on third base whereas Kim was born on third base and then shot the third baseman."
Meyers also noted that Trump seemed very interested in the potential real estate possibilities in the deal: "Even when he's in a summit over nuclear weapons he's still trying to sell a sh*t hotel timeshare."
Trump also asked photographers to make him and Kim look "handsome and thin," which prompted a strange look from Kim.
"There's an explanation here," Meyers said. "He's a ruthless dictator. That was the first time he's ever heard that he's not thin."
Watch: