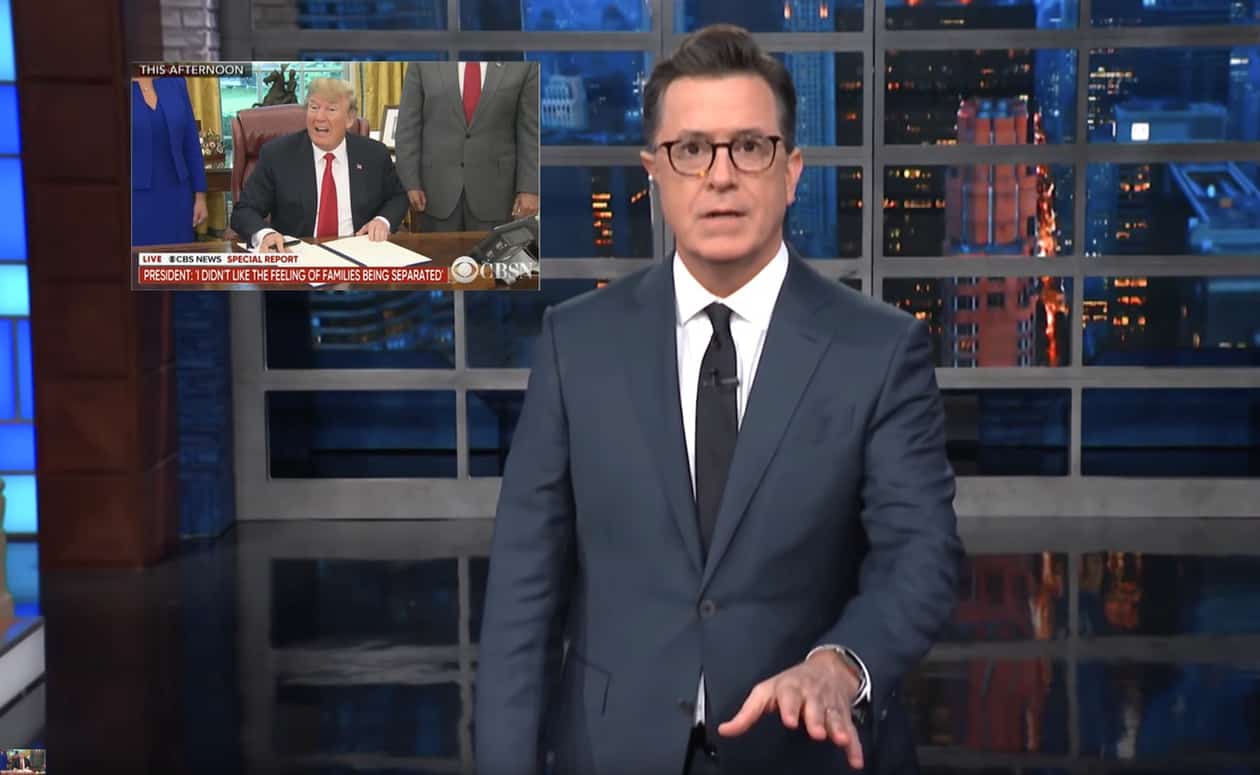 Stephen Colbert lambasted Donald Trump on Wednesday night after Trump signed an executive order halting the policy of child separation at the U.S. border.
"You're gonna have a lot of happy people," said Trump, signing the order.
"Happy people?" gasped Colbert. "Wait, are you signing a resignation?"
The Late Show audience went nuts.
NPR reports on what's in the order:
Trump's executive order directs the attorney general to promptly file a request with U.S. District Judge Dolly Gree in the Central District of California to modify the Flores Settlement and allow detained migrant families to be held together "throughout the pendency of criminal proceedings … or other immigration proceedings."
The president directed Homeland Security Secretary Kirstjen Nielsen to maintain custody of detained families during criminal proceedings and as their asylum claims are adjudicated. Also, Secretary of Defense Jim Mattis and the heads of other agencies are ordered to find or construct facilities to house the detained families. Finally, Attorney General Jeff Sessions is directed to prioritize the adjudication of cases involving detained families.
Said Colbert: "Trump made it a big signing ceremony to make it look like he did something good. Instead of just admitting he was just ending the evil thing he started. That's like wanting credit for solving the crimes you committed. It's all on the new CBS drama, Murder She Murdered.
Added Colbert: "And this executive order is not what he wants you to think it is. Sure he's reuniting families — in prison. He's detaining parents and children together. (In Trump voice) 'Look, if I have to go to prison with my kids, so do you.'"
Watch Colbert's segment: