Although the second episode of FX's new drama Pose remains set in the late 1980s, it's shocking how many of its themes still resonate today.
We are still fighting against racism, transphobia and rampant consumerism, even (some would say especially) within the LGBTQ community. In last night's episode, titled "Access," the struggle extended to even our most privileged characters.
So far, co-creator Steve Canals has certainly brought out the best of Ryan Murphy. Even when a particular scene overstays its welcome, the incredible characters they've created keep your eyes glued to the screen. As our characters' stories start spinning out in their own directions, I'd appreciate it if Pose took a page from another Ryan Murphy production, Glee, and give us something to work toward similar to the Sectionals, Regionals, etc. (Think of it like the Super Ball.) These extra-long episodes demand a strong narrative thrust to propel through the season.
There's still plenty to enjoy, don't get me wrong. The second episode of Pose maintained its glorious visuals. It's exhilarating to watch any of the ball scenes, and even the dance rehearsal (which I'm less emotionally invested in) was a joy to watch. The direction is just gorgeous.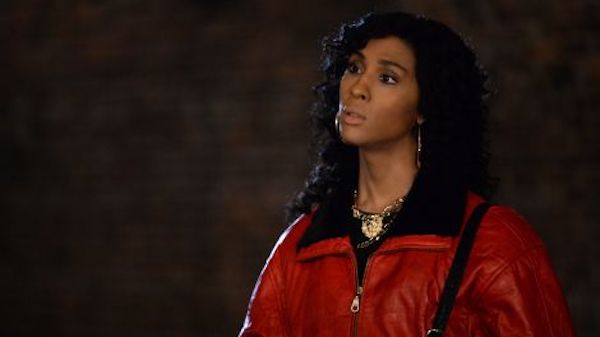 Mj Rodriguez once again anchors the hour-plus long episode with another remarkable performance as house mother on the rise, Blanca. Whether she's giving her young charge Damon (Ryan Jamaal Swain) a rarely-seen-on-screen queer sex education or crusading for her access to a gay bar, Rodriguez can be tender and tenacious with equal aplomb.
Her commitment to making an impact is laser-focused on New York's hottest (cis, white) gay bar. They refuse to serve her, eventually leading to a night in a men's prison cell. Hang around the wrong internet commenter communities long enough, you'll see this kind of attitude sadly persists today.
She's shockingly bailed out by her mother-turned-nemesis, Elektra (Dominique Jackson). Jackson's mean queen is by far the most fun character we have, but we see cracks in that steely beauty this week. After losing a category to Blanca at the ball, Elektra isn't satisfied winning uncontested while Blanca does her Norma Rae routine.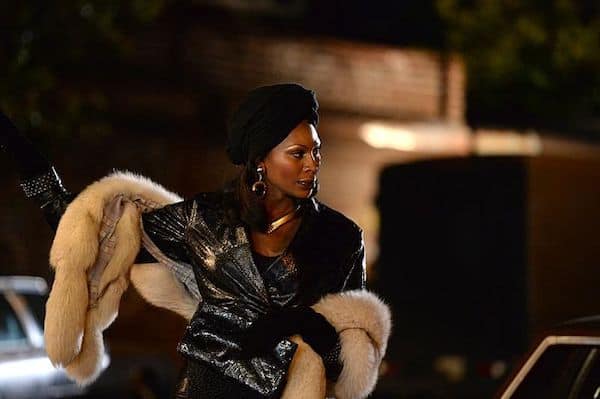 I've watched enough Ryan Murphy productions to know Elektra is the type of character whose rich, vulnerable inner-life is just waiting to be revealed. In the meantime, I'm going to continue just living for the kind of Alexis Carrington attitude she served while stomping out of Blanca's nail salon commanding that her top coat was "on the house."
Their verbal sparring is just as thrilling as a Westworld shootout, and their rivalry (destined to become a mutual respect down the road, I'm sure) gives the show some nice momentum.
Less captivating is Damon's story. His wide-eyed naïveté remains one of the least compelling contributions to this cast of strong, multi-dimensional characters. He's introduced to a potential love interest this episode, which does give us some nice moments (like aforementioned sex talk), but feels like a pretty thin story.
I'm much more invested in the relationship between Angel (Indya Moore) and Stan (Even Peters). He's still got it bad for her, and, as he struggles to keep up appearances with other successful business-types like James Van Der Beek's Matt, Angel's allure only becomes stronger.
He tracks her down at a peep show place in Times Square. There she can make money safely from behind glass. That's still not good enough for Stan, who offers to make her a kept woman instead. They share a tender meal together, and, although Peters gets the lion's share of the dialogue, Moore can steal a scene with just a look. She has so much presence.
In a very Ryan Murphy sort of way, Stan delivers a monologue about how he's a nobody, just spending money he doesn't have on things he doesn't need to keep up appearances. It's all very on-the-nose, and at the most earnest times like these, I just have a hard time believing anyone would speak like this.
It's thanks to Moore's subtle, nuanced performance that the conversation stays grounded. Stan's one of the few people that recognizes Angel's humanity. He's still no hero, though. Even though his boss Matt is impressed to learn he's getting some side action, let's not forget his wife Patty (Kate Mara) is at home with the baby just trying to get him to buy a dishwasher.
In a world where we're rooting for characters to chase their dreams despite really tough obstacles, it's Patty's small wish that feels the saddest. More than just a love story, the Angel-Stan-Patty dynamic is perhaps the most crystallized embodiment of how we're all looking to pass.  (How different is it, really, for the queens and Stan to serve executive realness?) For that matter, how different is it for any of us to be presenting as Successful, Happy, etc. (Social media brings this even more to the forefront of our consciousness.)
That parallel is just one way Pose has already elevated the way trans stories are portrayed. The series continues to deliver the most moving, natural and complex trans characters ever on television, and their journeys are only just beginning.
What did you think of the episode?
Get Towleroad Headlines Daily.
News daily from one of the most trusted, independent, lgbtq owned and operated media outlets. Covering news, entertainment, science, media, art and more for almost 17 years.