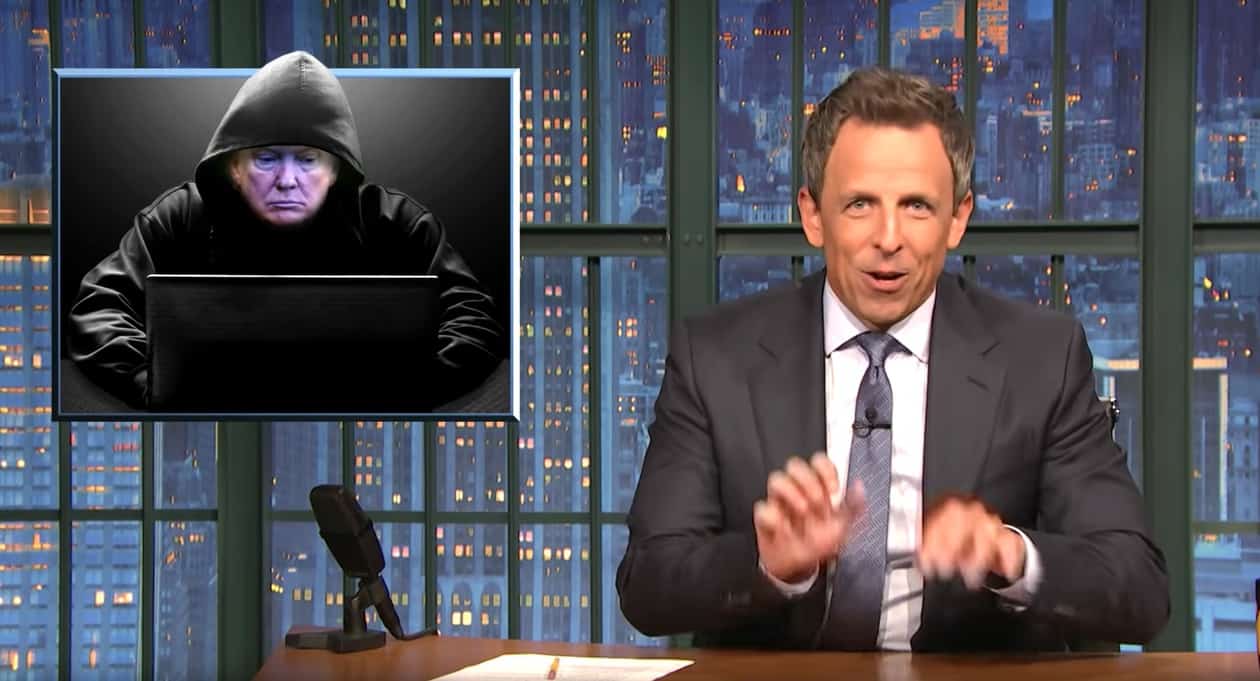 Seth Meyers on Monday night took a look at how Trump lawyer Rudy Giuliani is trying to destroy former Trump lawyer Michael Cohen's credibility now that it appears that Cohen is turning on his former boss.
Said Meyers: "So now Trump's team is trying to paint Cohen as a liar desperate to cut a deal. Trump's current lawyer, Rudy Giuliani, lurched out of a fog bank to go on CNN last week to make that case."
Asked by CNN's Chris Cuomo if Trump had a similar credibility problem as Michael Cohen, Giuliani replied, "He does not."
Quipped Meyers: "Yeah, no. He does. He does. He's a liar whose lawyer is lying about his lying lawyer's lies…This whole story is like a Dr. Seuss book called The Lie-ax."
Meyers then played a clip of Giuliani describing Cohen as an "honest, honorable lawyer."
Said Meyers: "Oh my god, you don't need to secretly tape these guys to catch them in a lie. Just point a camera at them and say, 'You're on TV now.'"
Meyers also looked at Trump's attempts to cover for Donald Jr. and his meeting with a Russians, calling Don Jr. "a good boy."
Said Meyers: "He's 40 and you're talking about him like he's a Golden Retriever. (In Trump voice) He's a good boy. Very loyal. And house trained. You never hear the fake-news talk about how he's house trained. But it's been weeks since he's had an accident."
Added Meyers: "Although it would explain a lot if Trump thinks the older you get, the more you can act like a little boy, because Trump's a 72-year-old man who eats McDonald's, wants a Space Force and gives people dumb nicknames. By the end of his presidency, his motorcade will just be Secret Service pulling him in a Radio Flyer."
Meyers then noted that while Trump's story has shifted constantly about the meeting with Russians, Giuliani pushed it even further yesterday by declaring that "collusion is not a crime."
Giuliani declared yesterday that "the hacking is the crime."
Said Meyers: "Nothing make me happier than imagining Donald Trump personally doing the hack. Hunched over his keyboard with blue light on his face just banging away with his tiny sausage fingers…"
Giuliani later clarified his stance by declaring that even if Trump did it, it's not a crime.
"Just because Trump didn't do the hacking doesn't mean he isn't complicit in a crime," replied Meyers, who revisited Trump's claim that the hacking might have been done by an obese guy on a bed in New Jersey.
Come to think of it….
Watch:
https://www.youtube.com/watch?v=Encvsgqbt0I