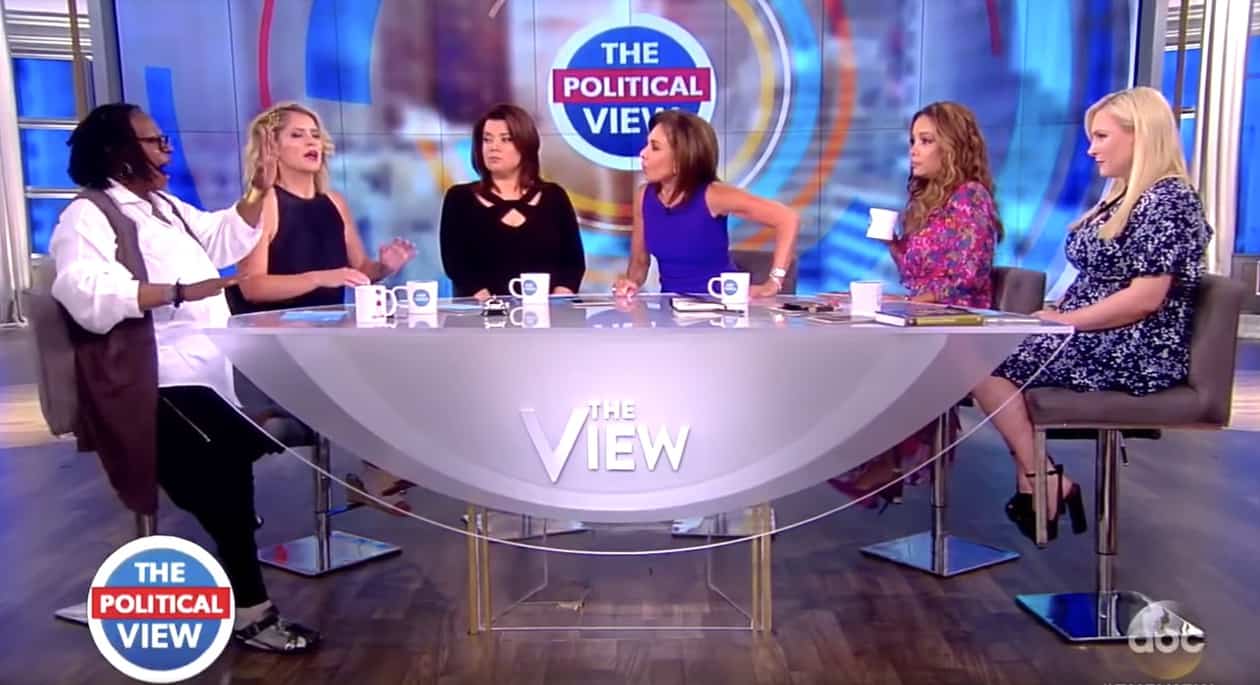 Whoopi Goldberg blasted FOX News host Jeanine Pirro, who was the guest on The View after Pirro accused Goldberg of having "Trump Derangement Syndrome" (above).
Said Goldberg: "Did you just point at me? Listen, I don't have Trump derangement [syndrome]. Let me tell you what I have. I'm tired of people starting a conversation with 'Mexicans are liars and rapists.' Listen, 62 years old. There have been a lot of people in office that I didn't agree with. But I have never, ever seen anything like this. I have never seen anybody whip up such hate. I have never seen anybody be so dismissive."
Pirro snapped back: "You know what's horrible? When people who shouldn't be here end up murdering the children of American citizens. What's horrible is we have sanctuary cities."
Goldberg replied: "What is horrible is when the president of the United States whips up people to beat the hell out of people. Say goodbye. I'm done."
Watch:
https://www.youtube.com/watch?v=ffYU-bSutMk
Page Six reports that things got even worse off camera:
The confrontation ended with liberal Goldberg allegedly shouting, "F–k you, get the f–k out!" at President Trump supporter and Fox News host Pirro.
During the screaming match, Pirro told Goldberg, "I've done more for abused women than you will ever do," we hear.
"When Jeanine arrived on set she was looking for a fight and refusing to be on with Ana, demanding [Ana] not be in the segment," an insider said. "[Pirro] was yelling at ['The View'] executive producer and her staff like, 'You need to handle this.'"
Another source told us that Pirro "was upset that Ana was there because she wasn't told until the last minute. Ana is 24-7 anti-Trump. Jeanine wasn't yelling, but you could tell they felt like the segment was being hijacked by shoving in an anti-Fox, anti-Trump person."
In an earlier part of the segment, Pirro had spouted off her misinformed views about the Supreme Court, the rumor she was considered for attorney general, the Russia investigation, the James Comey firing, and more:
https://www.youtube.com/watch?v=WYwfS7L–Mk