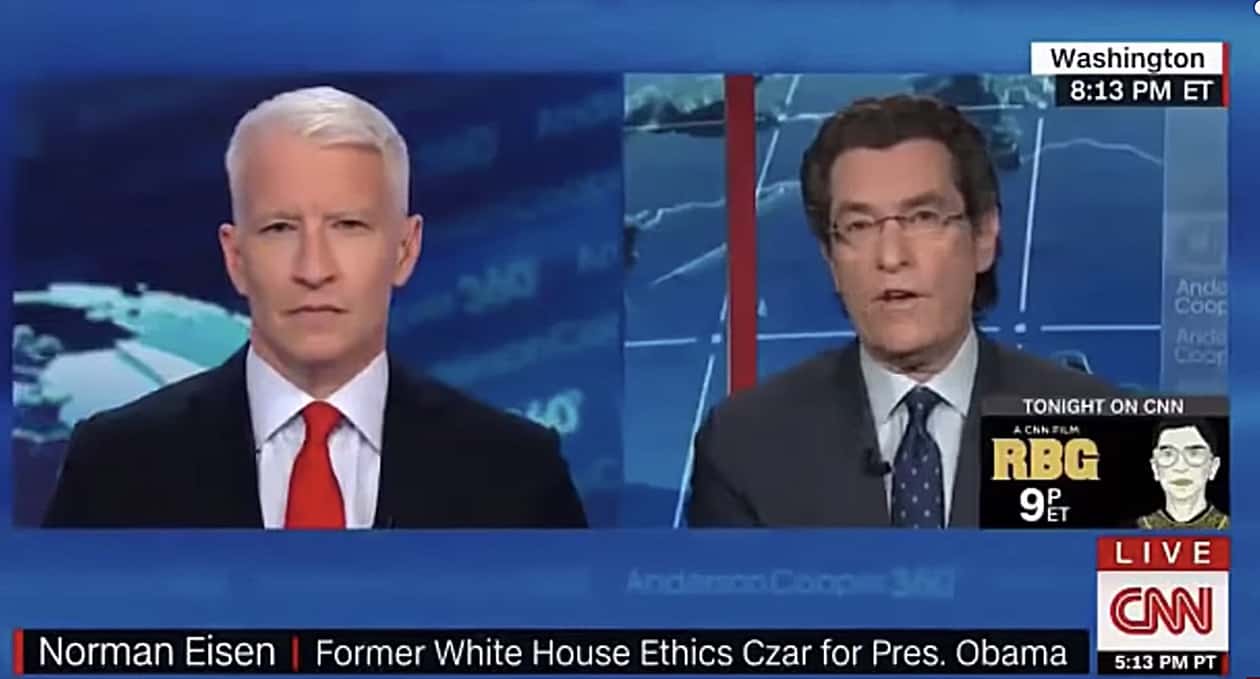 Anderson Cooper on Monday night discussed two tweets from Donald Trump on Monday which attacked his Attorney General Jeff Sessions and the Department of Justice.
Tweeted Trump: "Two long running, Obama era, investigations of two very popular Republican Congressmen were brought to a well publicized charge, just ahead of the Mid-Terms, by the Jeff Sessions Justice Department. Two easy wins now in doubt because there is not enough time. Good job Jeff……….The Democrats, none of whom voted for Jeff Sessions, must love him now. Same thing with Lyin' James Comey. The Dems all hated him, wanted him out, thought he was disgusting – UNTIL I FIRED HIM! Immediately he became a wonderful man, a saint like figure in fact. Really sick!"
https://twitter.com/realDonaldTrump/status/1036681588573130752
https://twitter.com/realDonaldTrump/status/1036685082650705920
Cooper asked Norman Eisen, former White House ethics czar for President Obama, if U.S. democracy is strong enough to withstand Trump's attacks on it.
Said Eisen: "Democracy is more powerful than this autocracy. And it's coming for Donald Trump so he's pushing back."
Replied Cooper: "You really believe that though? That the institutions are stronger than- or strong enough to resist this kind of thing from the president of the United States?"
Said Eisen: "I do, Anderson. In every case, sooner or later, every dog gets its day. And sooner or later, democracy is more powerful including because the rule of law."
Watch:
https://youtu.be/VaMi9Nqgm3Q
In related news, Senator Ben Sasse (R-NE) blasted Trump for his tweets, saying: "The United States is not some banana republic with a two-tiered system of justice – one for the majority party and one for the minority party. These two men have been charged with crimes because of evidence, not because of who the President was when the investigations began. Instead of commenting on ongoing investigations and prosecutions, the job of the President of the United States is to defend the Constitution and protect the impartial administration of justice."
Senator Jeff Flake (R-AZ) also denounced them: "This is not the conduct of a President committed to defending and upholding the constitution, but rather a President looking to use the Department of Justice to settle political scores."
This is not the conduct of a President committed to defending and upholding the constitution, but rather a President looking to use the Department of Justice to settle political scores. https://t.co/E74YmhD4dB

— Jeff Flake (@JeffFlake) September 3, 2018