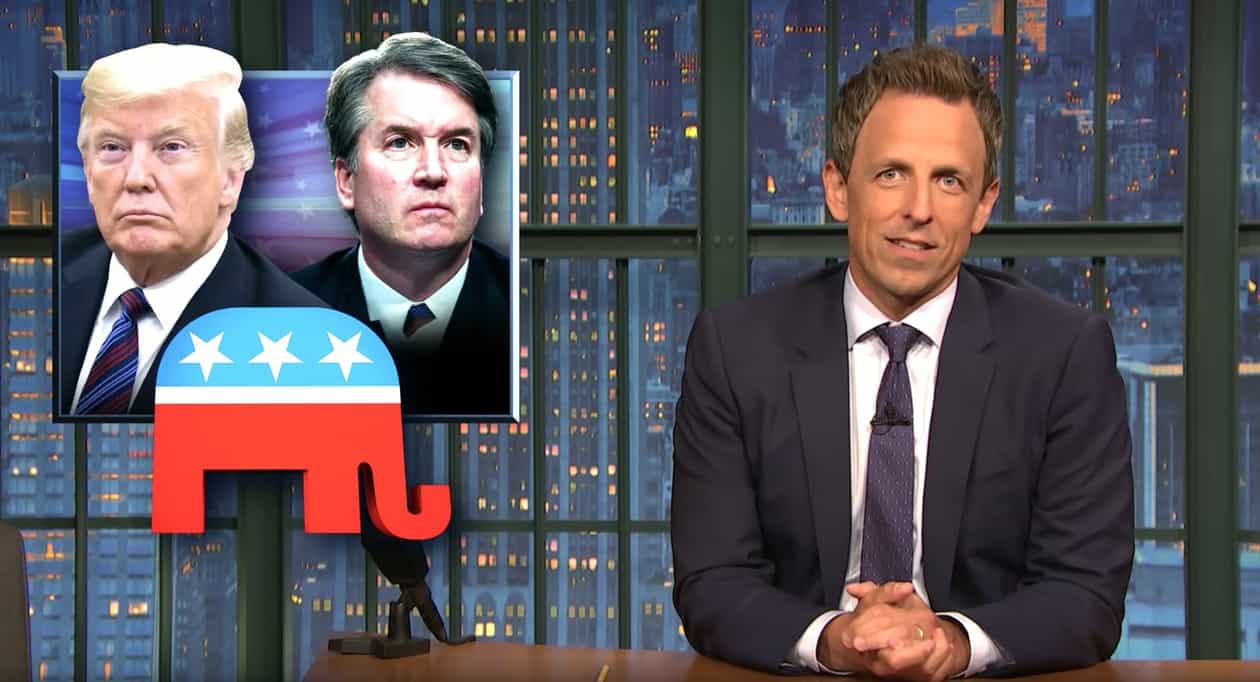 "Let's just step back for a moment and consider the fact that Trump is trying to appoint someone to a lifetime seat on the Supreme Court while simultaneously being implicated in a truly staggering number of criminal cases and corruption scandals," said Seth Meyers at the opening of his 'Closer Look' at the Kavanaugh hearing. "That's like Bonnie getting arrested and saying, 'You know who would make a great judge?….Clyde.'"
Meyers then took viewers through the laundry list of advisers and staffers who are currently in trouble with the law, including Paul Manafort, Rick Gates, Michael Cohen, Michael Flynn, George Papadopoulos, Chris Collins, and Duncan Hunter.
Meyers then looked at Trump's weekend tweets in which he attacked the Department of Justice for not covering for the Republicans involved in corruption scandals.
"Not only is Trump corrupt but he is obvious about it. He's like a guy who tries to pick your pocket from the front."
Meyers then turned to the Bob Woodward book and the conversations Trump had with his lawyers that are detailed in the book, specifically a discussion Trump had with lawyer John Dowd in which he tried to convince Dowd that he'd be a good witness.
"You would not be a good witness," Dowd replied.
Meyers also talked about the conversation Woodward had with Trump during which Trump realized the book would be negative.
Quipped Meyers: "He's like a guy who doesn't understand why he's being dumped. I'm breaking up with you because you're dumb, annoying, selfish, ugly, and I don't like you, and I'm not attracted to you in any way."
Meyers continued that it's "absurd," given the above circumstances, that Trump should be allowed to appoint Brett Kavanaugh to the Supreme Court. And Republicans are trying to market him as a "car pool dad" who is perfectly harmless, despite the fact that they're hiding thousands of background documents on him.
Meyers then looked at the first day of the Kavanaugh hearings, and the Democrats' failed attempt to obstruct them, as well as Chuck Grassley's pathetic gavel banging.
Watch: