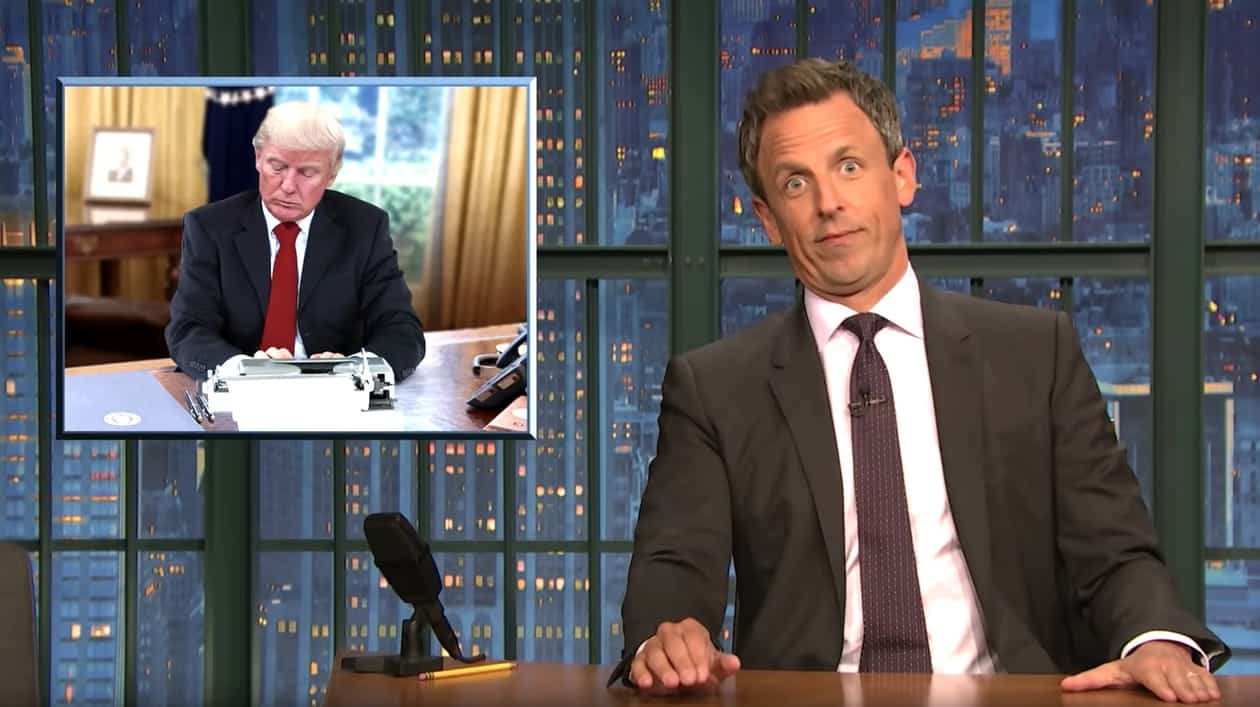 "One of the weirdest aspects of having Donald Trump as president is the fact that every few months or so people working at the highest levels of government have to put down everything they're doing and hunt for the anonymous mole who just called the president a brain-dead moron," said Seth Meyers at the opening of last night's A Closer Look.
The latest mole hunt is for the author of the anonymous NYT editorial, ordered by Trump "who sounds like Sherlock Holmes after a concussion."
However, no one seems to be able to say what the crime its author committed might be, including Kellyanne Conway. But it's obviously freaking Trump out, as is the new Bob Woodward book, Fear.
Meyers pointed out that Trump recently claimed he'd write "the real book!"
https://twitter.com/realDonaldTrump/status/1039111866956566528
Said Meyers: "Please do that! I would love to see you try to write a book by yourself without a ghost writer. And I mean a real book, not one of your airport books because I'm pretty sure those books have exactly one word on each page. I'm talking about an actual book with chapters and an appendix. Of course, if you tell Trump that you need an appendix, he'd probably say, 'Fine, take Eric's.'"
Added Meyers: "I gotta say I love imagining sitting at a typewriter and punching away at the keys with his stubby meat paws. He either types one finger grandpa style or with palms open as if he's playing Whack-A-Mole."
Meyers also mocked Trump's pathetic attempt to say the word "anonymous" at his recent rally in Montana.
Slurred Trump: "Is the op-ed published in the failing NYT by an ano-mon-ous, gutless coward?"
Quipped Meyers: "Hmm. Who do you think it was? Maybe it was the same person who replaced your denture adhesive with Silly Putty?"
Trump also claimed his speeches would be remembered like Lincoln's Gettysburg Address.
"He was excoriated. By the fake news – they had fake news then too," Trump said. "He was excoriated. They said it was a terrible, terrible speech. They said it was far too short. It's not long. Many of us know it by memory."
"No," said Meyers. "You do not know the Gettysburg Address by memory. I doubt you know your own address by memory."
Watch: