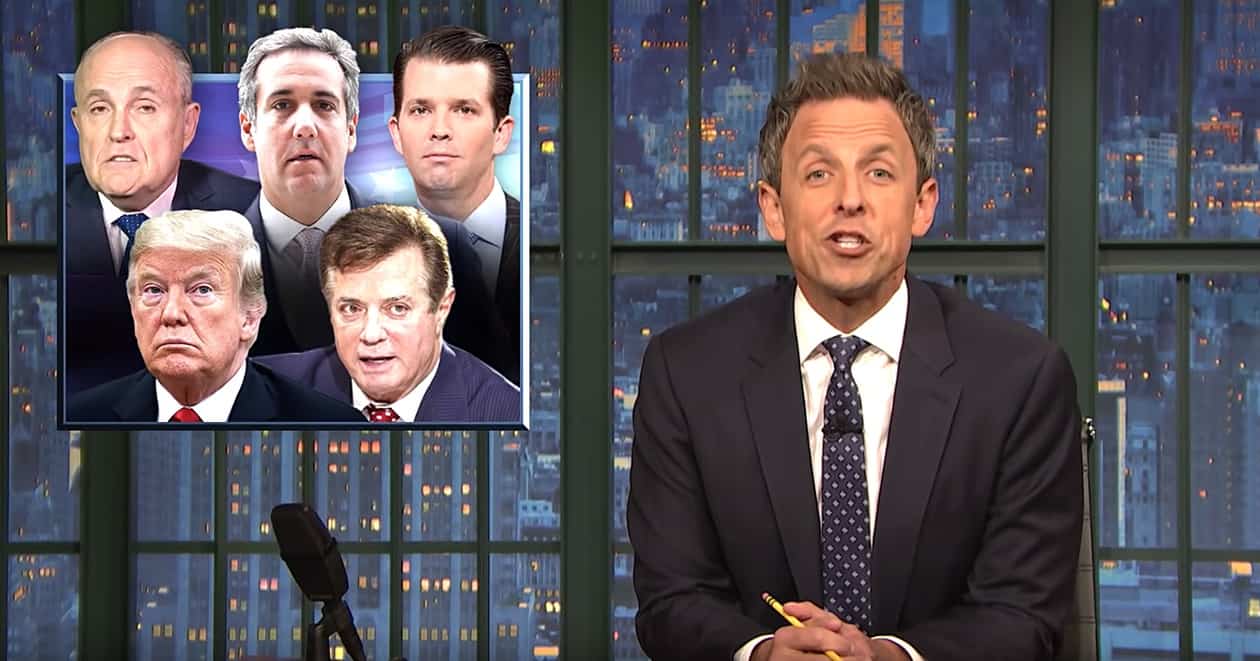 Seth Meyers returned on Monday night with a look at Donald Trump's recent successes in degrading democracy and the lies he's spinning to win the midterms.
Said Meyers: "Trump is pulling out all the stops in the midterms to try to avoid the impending blue wave, and the reason these midterms feel so tense is that right now, millions of Americans feel their democracy isn't working. Republicans are illegally purging voters and gerrymandering districts. Four justices on the Supreme Court have now been appointed by two presidents who lost the popular vote, and the most recent nominee was confirmed by a Senate majority that actually represents fewer Americans than in the Senate minority. What we have now is a system that does the opposite of what the people want. It's like if Lay's let everybody vote on a new potato chip flavor, and a month later they announced that the winner was fried liver and cilantro. You'd be like, 'I think something might be wrong with the voting system.'"
Meyers then turned to Trump's attempts to paint Democrats as an "angry mob."
"First of all, when Trump finds a rhyme like 'mobs and jobs,' that's his Gettysburg Address," said Meyers.
"Second, you're accusing Democrats of asking like a mob? Because I can only remember one mob in recent history, and I'm positive they weren't Democrats. Democrats only use tiki torches to keep mosquitos away from their vegan barbecues. You guys are the ones who run the government like a protection racket. Republicans all look like they should be cracking their knuckles in a butcher shop telling the owner, 'Nice place you got here, would be a shame if something happened to it.'"
And Trump's defense of Montana Rep. Greg Gianforte, who bodyslammed a reporter: "Trump also told his supporters to knock the crap out of reporters and promised to pay their legal fees if they did. He's an actual crime boss. Look at him. He sweats like he's being dangled off the side of a roof by Batman."
Watch: