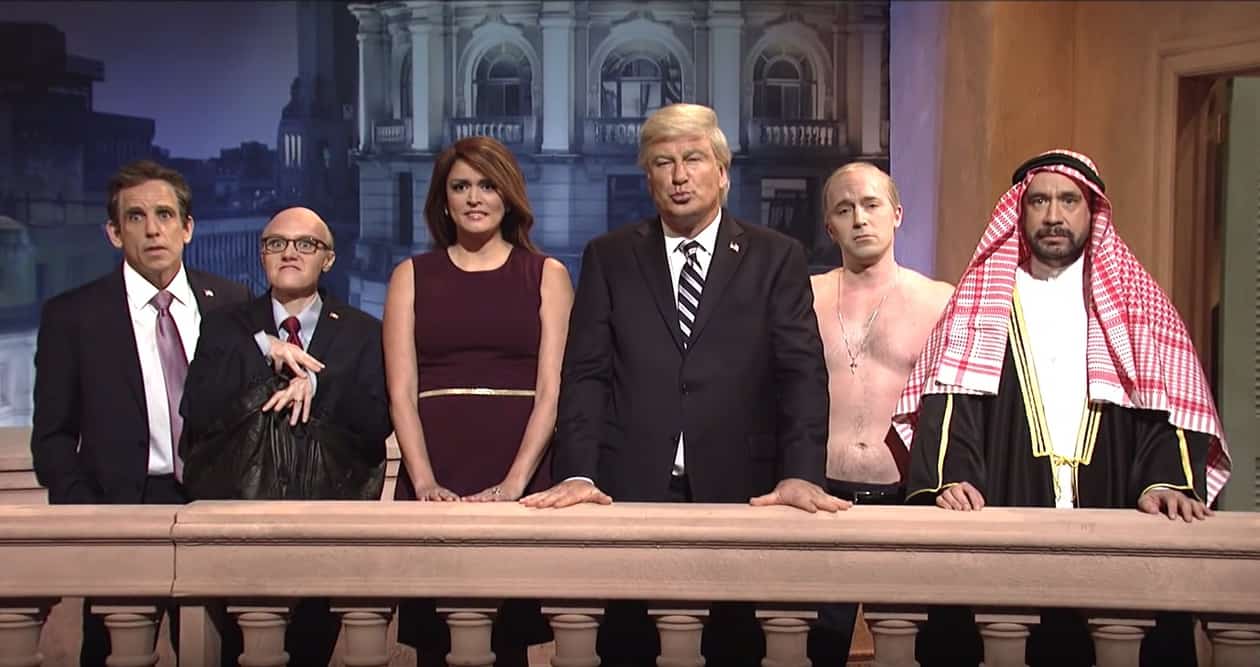 Donald Trump's trip to Argentina for the G-20 summit provided the launchpad for SNL's star-studded cold open, which featured Alec Baldwin's second appearance of the season as Trump, Ben Stiller as Michael Cohen, Fred Armisen as Crown Prince Mohammed bin Salman of Saudi Arabia, Kate McKinnon as Rudy Giuliani, Beck Bennett as Vladimir Putin, and Cecily Strong as the First Lady.
The sketch began by making light of Melania's much-memed red White House Christmas decor.
Said Baldwin's Trump: "Melania, I'm having trouble sleeping. I keep having this nightmare where I'm walking through a forest of blood."
Replied Strong's Melania: "No, no, that was just my Christmas decorations."
Baldwin's Trump expressed concern about the Mueller investigation, prompting McKinnon's batlike Rudy Giuliani to appear: "I was hanging upside down under the balcony."
Said McKinnon's Giuliani when asked how the legal defense was coming along: "Well, I'm involved, so it's not great. This might be the first time someone's lawyer pleads insanity."
After McKinnon's Giuliani spread his wings and flew off, Baldwin's Trump placed a call to Stiller's Cohen:
Said Baldwin's Trump: "I'm sad you're going to prison, Michael. You were like a son to me."
Replied Stiller's Cohen: "Then why'd you make me do so much illegal stuff?"
"Because you were like a son to me," replied Baldwin's Trump.
As soon as Baldwin's Trump hung up, Beck Bennett's shirtless Putin arrived: "Honey, why you still up? Come back to bed, babe."
"I still can't believe you and the Crown Prince of Saudi Arabia had that whole handshake yesterday," said Baldwin's Trump.
"What, that?" asked Bennett's Putin. "That meant nothing. Was just a totally improvised handshake. I'm not like bros with him or anything."
With that, Armisen's Crown Prince arrived and the two shared another complex handshake as Bennett's Putin told him, "you're my number one."
"Wait, I thought I was your number one," protested Baldwin's Trump.
Replied Bennett's Putin: "Oh, totally. You're not my side piece. You're like my main girlfriend. This Saudi guy is just a random hookup."
Bennett's Putin and Armisen's Crown Prince then joked about killing Washington Post journalist Jamal Khashoggi.
Bennett's Putin then asked, "When am I moving into Trump Tower Moscow? Just kidding. I would never set foot in a dump like that."
Said Bennett's Putin, departing: "You won't see me for awhile, Donny. I prefer presidents who don't get indicted."
Then, finally, back to Argentina. Baldwin's Trump launched into a version of the famous song from Evita, as the other players returned.
"Don't cry for us Argentina / The truth is I barely know him / All through our wild days / My mad existence / It's just a witch hunt / And we're all witches"
Watch: