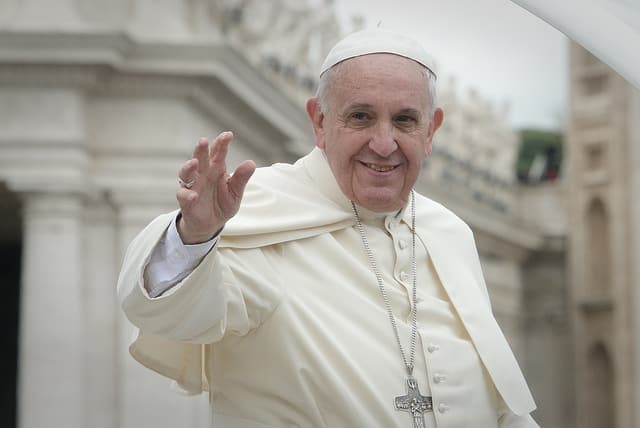 Pope Francis said gay people should not join the Catholic priesthood in lengthy remarks from a new book, The Strength of a Vocation, which was released yesterday in Italy.
Asked about the high percentages of gay people in the priesthood, Francis responded:  "It's something that worries me. We have to discern with seriousness and listen to the voice of the experience that the Church has. When discernment is not used, problems increase. As I said before, it may be that at the moment they are accepted maybe they do not show their faces [as gay people], but later they appear."
"The issue of homosexuality is a very serious matter that must be properly discerned from the beginning with the candidates [for priesthood]," he added. "We have to be demanding."
He continued, "In our societies it even seems that homosexuality is fashionable and that mentality, in some way, also influences the life of the church."
Francis related the story of a bishop who had come to him wondering about several gay priests in his diocese: "In short, he was saying, well, it's not that serious. It's just an expression of an affection…This is a mistake…It is not just an expression of affection. In the consecrated life and in the priestly life, there is no place for that kind of affection. For this reason, the Church recommends that people with this ingrained tendency not be accepted into the ministry or the consecrated life."
Added Francis: "I say to the priests, gay religious men and women, we must urge you to live fully celibate and, above all, to be exquisitely responsible, trying not to scandalize your communities or the holy faithful people of God by living a double life. It is better that you leave the ministry or consecrated life rather than live a double life."
In May, Francis reportedly met with a group of bishops and told them to be wary of gay applicants to the priesthood, and reject them if they suspected the applicant was homosexual, Reuters reported: '"Keep an eye on the admissions to seminaries, keep your eyes open," the pope was quoted as saying by newspaper La Stampa's Vatican Insider service. "If in doubt, better not let them enter." The Vatican did not immediately respond to a request for a comment on the remarks, which Vatican Insider and Il Messaggero said were made at a closed-door gathering on Monday.'
Also in May, Juan Carlos Cruz, a sexual abuse survivor and advocate for survivors, told Spanish newspaper El Pais that  Pope Francis had told him "Juan Carlos, that you are gay does not matter. God made you like this and loves you like this and I don't care. The pope loves you like this. You have to be happy with who you are."
In June, Francis condemned abortion and clarified the Catholic Church's view of what is considered a "family" in remarks to the Forum delle Famiglie, an Italian lay movement representing Catholic families.
Reuters reported: "Only heterosexual families can form a family, Pope Francis said on Saturday, when he also condemned abortion and hailed the "sanctity" of women who forgive cheating husbands. 'It is painful to say this today: People speak of varied families, of various kinds of family,' but 'the family [as] man and woman in the image of God is the only one,' Francis said in unscripted remarks."
The Pope added: "In the last century, the entire world was scandalized by what the Nazis did to ensure the purity of the race. Today we do the same, but with white gloves."