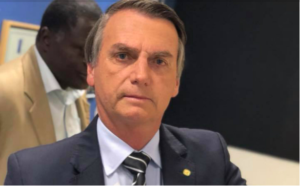 Newly installed President Jair Bolsonaro targeted Brazil's indigenous groups, descendants of slaves and the LGBT community with executive orders in the first hours of his administration, moving quickly after a campaign in which the far-right leader said he would radically overhaul many aspects of life in Latin America's largest nation.
Sao Paulo's stock market, meanwhile, jumped 3.56 percent to a record closing of 91,012 points as new Cabinet ministers reinforced the intent to privatize state-owned companies and a Brazilian arms maker benefited from Bolsonaro's plans to loosen gun controls. Similar spikes in stock prices also occurred during the presidential campaign.
LGBT activist Symmy Larrat told The Associated Press she doesn't' expect reasonable treatment from the Bolsonaro administration.
"The human rights ministry discussed our concerns at a body called secretariat of promotion and defense of human rights. That body just disappeared, just like that. We don't see any signs there will be any other government infrastructure to handle LGBT issues," she said.
New Foreign Minister Ernesto Araujo indirectly criticized the LGBT community as being "those that say they are not men and women."