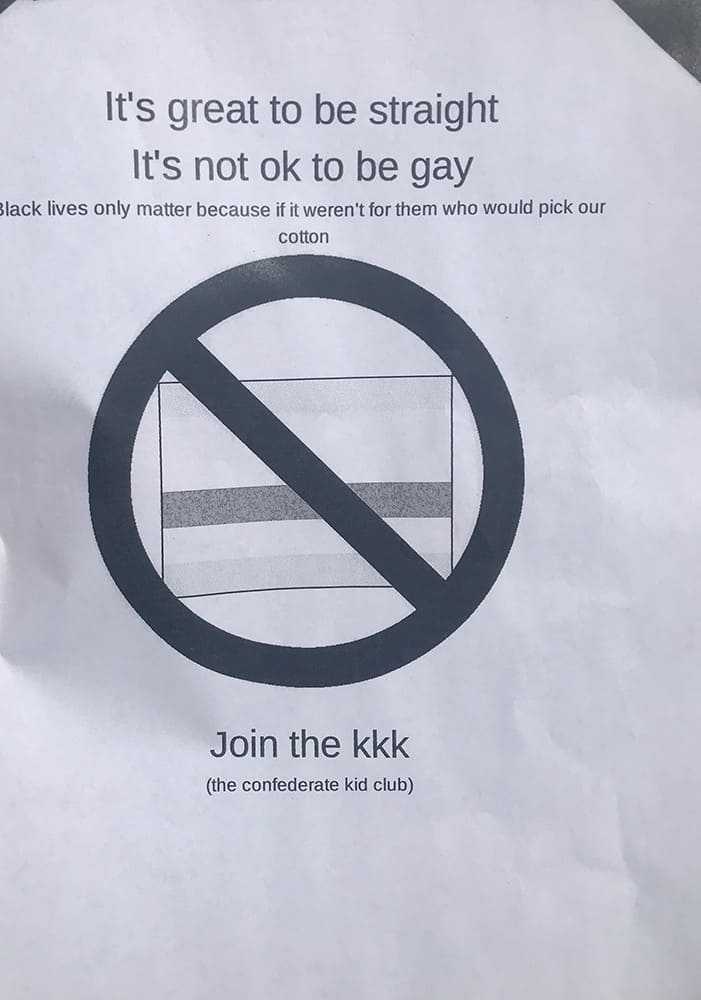 Students wearing Confederate flags distributed racist and homophobic flyers on Wednesday in an effort to bully students in McCormick Junior High School's Gay Straight Alliance students. The school is in Cheyenne, Wyoming.
The flyers have a "NO" symbol covering a Pride flag and say "It's great to be straight. It's not ok to be gay."
They also read, "Black lives only matter because if it weren't for them who would pick our cotton" and "Join the kkk (the confederate kid club)".
The Wyoming Tribune Eagle reports: "Principal Jeff Conine told the Wyoming Tribune Eagle there were only two flyers, and that they were taped to a wall in an area without security cameras. He said teachers found the flyers and took them down before the school day began. But at least three other, independent reports claim the walls of the school were papered with the flyers, and that students with Confederate flags were passing out the flyers to targeted students in the GSA club at the school."
The school's principal told the paper he thought it was an "isolated" incident but the GSA's co-sponsor, Kaycee Cook, a substitute teacher, told the paper that "Wednesday's events were only the latest in a series of events. Cook said students have been flashing confederate flags and yelling homophobic slurs at GSA students." She also said that some teachers have refused to address LGBTQ students by their chosen pronouns and called gay students "disgusting."
Cook was then FIRED after reporting the hate speech to Wyoming Equality: "Kaycee Cook tells the Wyoming Tribune Eagle that McCormick Junior High Principal Jeff Conine sent her an email Wednesday saying she was no longer welcome as a guest or a substitute teacher at the school. Cook says she thinks Conine took action after she called members of a local LGBTQ advocacy group to tell them about the flyers."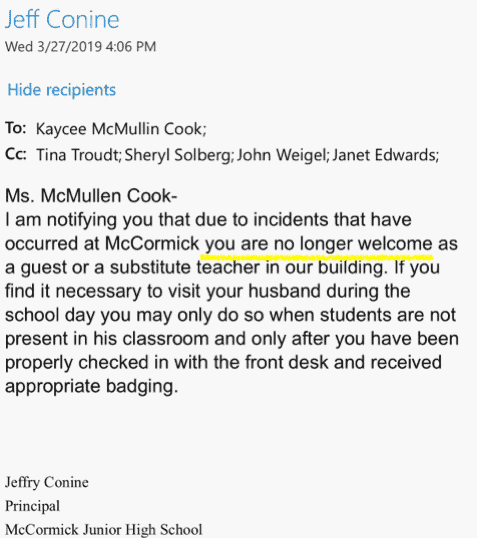 Wyoming Equality released a statement:
Our offices at Wyoming Equality and ACLU were saddened today, but not surprised, to hear of an incident at McCormick Junior High where LGBT and black students were made to feel unsafe and unwelcome. While we were happy to find agreement with the McCormick Junior High School principal, Jeff Conine, who agreed that LGBT and black students should have the same access to education that any student enjoys, we were disheartened that the principal's response did not include greater support for the LGBT and black students harmed. There can be no equivocating: there is no place in Cheyenne for this hate. Our values of fairness and "live and let live" ethics are being tested and our response as a community must be with one voice: not in our town.  


We invite all concerned citizens who want to be part of a constructive community response to hate groups trying to use children to spread divisive and hateful messages in our schools to join us Friday, March 29th at 5:30 pm, location TBD.


Mayor Orr; representatives from the 2nd Baptist Church; NAACP and a broad coalition of community, faith and business leaders will be joining us.  WE Director Sara Burlingame stated, "I don't think these hate groups understand how fiercely we protect our children here in Cheyenne.  These students they are using as their pawns deserve much better role models. Some adult out there taught these students to carry confederate flags and scream, as they did today at McCormick Jr High, "God doesn't want people to be fags!" Our LGBT and black students deserve kindness and support, but these students targeting them also deserve much better than the garbage they're being fed by some hateful adults."

Please address all questions to:
Sara Burlingame
Executive Director
Wyoming Equality
(307) 214 2556
sarab@wyomingequality.org

Sabrina King
ACLU Wyoming
(801) 671 8372
sking@aclu.org