Published by
BANG Showbiz English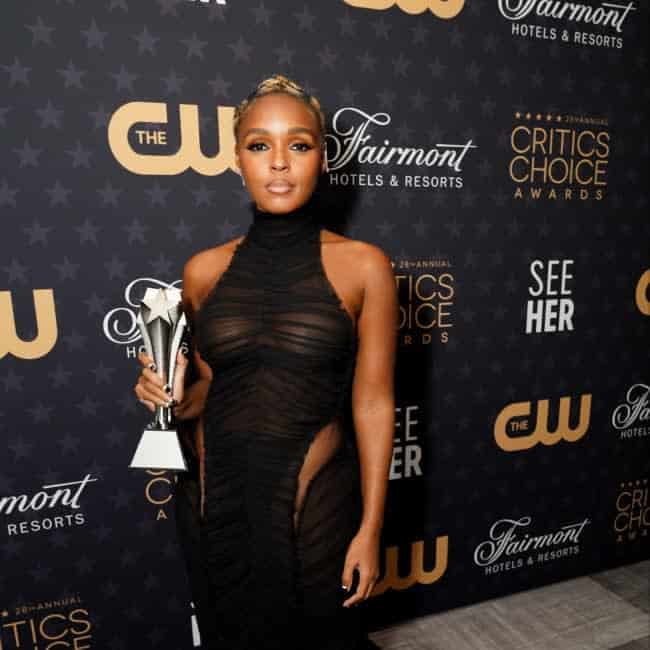 Janelle Monáe says that her "queer identity" has an influence on her career.
The 37-year-old star was the recipient of the SeeHer award a the Crtics' Choice Awards on Sunday (16.01.23) – which is presented to a woman who advocates for gender equality – and reflected in her acceptance speech that she hopes to "shed light" on the "human experience" with her work.
She said: "This is a deeply personal choice for me because I grew up to working-class parents. My mother was a janitor, my father was a trash man, and my grandmother was a sharecropper in Aberdeen, MS.
"It's personal because I am nonbinary. I am queer and my identity influences my decisions and my work. I have always believed that through storytelling, we are able to shed light on the human experience, and experience that most people around this world won't get an opportunity to see. I kind of keep this glimmer of hope in my heart that when someone meets a character like the ones that I've had an opportunity to play, you be more empathetic to their experience, more empathy. You want to be more like them. You want to be more kind, less judgmental, more eager to advocate for them."
The 'Glass Onion: A Knives Out Mystery' actress went on to add that before finding fame in music and on screen, there were "many times" when she was convinced she would never make it and "wasn't supposed" to escape her native Kansas but was unable to see her "own gift."
She said: "There were many times, to sit up here, I know I am dressed up. All of that. But there were so many times in my life, y'all, where I couldn't see me. I couldn't see my light. I couldn't see past my circumstances.
"If you know my story, I wasn't supposed to make it out of Kansas City and be here tonight. I wasn't. I didn't see the vision clearly for myself. I couldn't see my gift. I couldn't see what my purpose was supposed to be at that time. But thank you, god, so many other people did. They didn't give up on me and they gave me opportunities despite my own lack of confidence. I was faking it until I made it.
"To anyone out there like me watching right now, I just want you to know that I see you. Challenge you to see you.
"Thank you to SeeHer and thank you to the Critics Choice Association for recognising me. I stand in the biggest puddle of gratitude and for making me the recipient of the 2023 SeeHer award. Thank you. "