Published by
AFP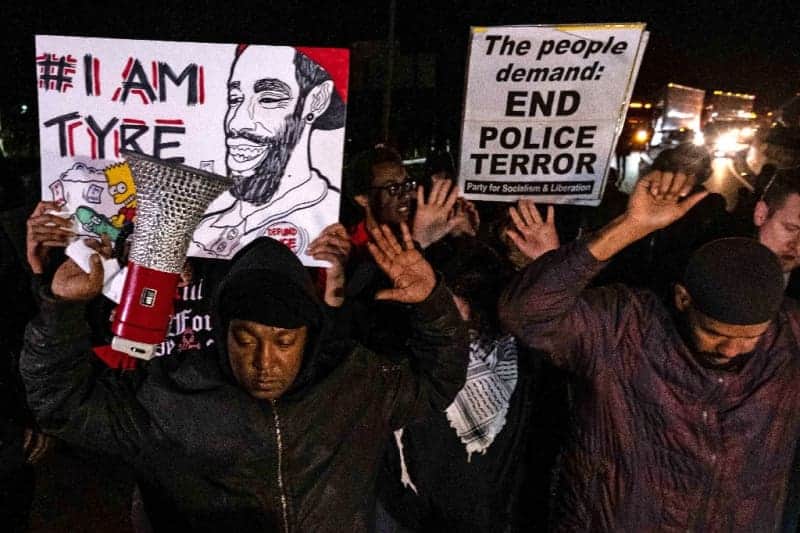 Demonstrators protesting the police killing of Tyre Nichols in Memphis, Tennessee
Washington (AFP) – Lawyers for five officers said they pleaded "not guilty" Friday to charges they murdered Tyre Nichols, a young Black man who died after a police beating last month in the US city of Memphis, Tennessee.
Videos of the incident showed the five officers, who are all Black, repeatedly kicking and punching Nichols during a traffic stop close to his home on January 7, three days before he died in hospital.
Attorneys representing the defendants, all of whom were fired by the Memphis Police Department, appeared in a brief initial plea hearing for an explosive trial that has drawn national attention to the issues of police abuse and mistreatment of African Americans.
All five were charged with second degree murder.
Judge James Jones acknowledged those sensitivities as he warned the defendants and the family of Nichols present in court that the trial could be long and involve "high emotions," and urged "civility" for those connected to the proceedings.
"Everyone involved wants this case to be concluded as quickly as possible. But it's important for you all to understand that the state of Tennessee as well as each one of these defendants have an absolute right to a fair trial."
"And I will not allow any behavior that could jeopardize that right," he said.
Saying there is a large amount of evidence to be collected, Jones set the next court date for May 1.
After the hearing civil rights attorney Ben Crump, who represents the Nichols family, said the substantial video evidence implicating the officers should enable a speedy trial.
"It's important that we move swiftly towards justice," Crump said. "When people in our community do something on video, it doesn't take a long time to prosecute them."
Nichols' mother RowVaughn Wells said she still feels "numb" over the death of her son.
"I know my son is gone. I know I'll never see him again. But we have to start this process of justice," Wells said.
She added that she plans to attend every court session to ensure the former officers "can know that we're here."
"I want each and every one of those police officers to be able to look me in the face. They haven't done that yet, they could even do that today," she said.
Police unit 'pattern'
Nichols, 29, was stopped by members of a special police anti-crime squad called the Scorpion Unit in Memphis on January 7 for an alleged traffic violation, according to police.
The reason the officers stopped him remains unknown.
Nichols was beaten viciously by police, in scenes recorded in body camera and security camera footage that triggered national outrage when it was made public late last month.
Besides the five officers charged with second degree murder, a sixth one has been fired and other officials, including three firefighters, suspended.
Crump flatly rejected media reports and online gossip that motive for the traffic stop involved Nichols' alleged friendship with a woman who had had a relationship with one of the officers.
"All these rumors that are circulating are bogus and untrue," said Crump.
"This ancillary matter has nothing to do with the reason why this happened to Tyre Nichols," he said.
"The Scorpion unit had a pattern and practice of doing this to Black people in Memphis. That's it."
Nichols was buried February 1 in a ceremony attended by Vice President Kamala Harris, who said his beating "was not in pursuit of public safety."
"This is a family that lost their son and their brother through an act of violence at the hands and the feet of people who had been charged with keeping them safe," she told the gathering at Mississippi Boulevard Christian Church.
The next day, in a meeting with Black lawmakers, President Joe Biden urged Congress to put through stalled police reforms, citing Nichols' death.
"My hope is, this dark memory spurs some action that we've all been fighting for," Biden said.