Published by
AFP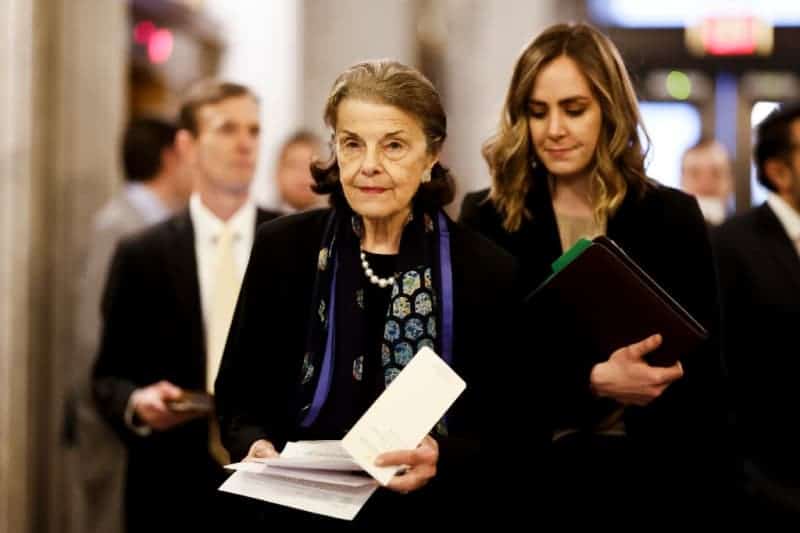 US Senator Dianne Feinstein, pictured on February 13, 2023, vowed to continue fighting for her home state of California
Washington (AFP) – Veteran Democrat Dianne Feinstein, a titan of US political history who notched countless legislative achievements during a trailblazing three-decade career in the Senate, announced her retirement on Tuesday. 
Feinstein, the oldest senator at 89, is celebrated as a hugely effective legislator and tough check on administrations from both parties — but she has been facing calls to quit amid a number of missteps that have threatened her legacy. 
"I am announcing today I will not run for reelection in 2024 but intend to accomplish as much for California as I can through the end of next year when my term ends," she said in a statement.
The recently widowed Californian, who will be 91 when she steps down, survived an attempted bombing of her home and was also near the scene of an infamous double murder in San Francisco.
Feinstein became the city's first female mayor after the fatal shooting in 1978 of Harvey Milk, the country's only openly gay politician, and mayor George Moscone by a disgruntled former colleague. 
In the US Senate she took the lead on hundreds of bills and rose to the chairmanship of the powerful intelligence committee — another first for a woman.
"Even with a divided Congress, we can still pass bills that will improve lives. Each of us was sent here to solve problems," she said. 
"That's what I've done for the last 30 years, and that's what I plan to do for the next two years."
Her achievements include writing the 1994 assault rifle ban and producing a 6,700-page report on the CIA torture program during the US "war on terror."
But there have been growing misgivings over her declining cognitive health, many raised by figures in her own party.
Former staff have described episodes of apparent confusion, and she suffered an embarrassing lapse in front of the nation's TV cameras in November 2020, when she asked tech guru Jack Dorsey the same question, word for word, twice in a row.
Recently, the pandemic and her husband's declining health curtailed Feinstein's public appearances outside of Congress. 
"Senator Feinstein broke innumerable glass ceilings and her work has impacted the lives of millions of Americans — and especially Californians — forever," said Chuck Schumer, the leader of the Senate's Democratic majority.
"Dianne Feinstein was, and will remain, a California and an American institution."