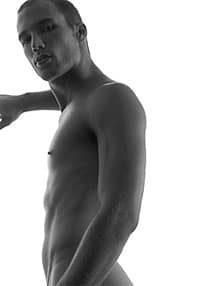 We've watched him mesh with millipedes, tease with toilet paper, strike poses in pimp wear, and tame tarantulas. Throughout the Manhunt competition, Rob Williams exuded confidence, charm, creativity, and an openness about his sexuality that makes him not only a great fashion model, but a real role model as well. And let's admit, having one of our own in the competition made it that much more fun to watch.
Any prior misconceptions his hetero co-models had about gay people were revised and rewritten as the show progressed and Rob won competition after competition while having fun and showing integrity.
Plenty of competitors would have told the other finalist Jon Jonsson to continue packing his bags when he showed hesitation at performing the final nude modeling task. Yet Rob encouraged Jon, knowing it might cost him the win. And, well, it did. Yet despite the fact that Rob ultimately finished as runner-up in Bravo's Manhunt competition, this is definitely not "his last shot".
It appears that Rob has forgiven me for the fun I've poked at the Manhunt models all season (of course I've made no secret of my favorites) because he offered to share some of his thoughts on the show with Towleroad. We're most definitely stoked.
Do you think that being gay was a factor at all in not making the top spot?
I don't think being gay had anything to do with the results of the show. I think the judges were fair and picked who they thought was the best choice. However, I do think that some producers might believe that having a gay contestant in the final two of a show that is in part based on sex-appeal is not an ideal situation. There is still the Hollywood myth that an openly gay man cannot be considered sexy by the American public. Luckily, the eliminations of our show were decided by modeling judges, not producers.
Do you think your sexuality gave you any advantages in this competition?
I think I had to try harder which did in turn give me an advantage. I think it is easy to discard someone that can be marginalized or type-cast. Because being gay is such a huge part of who I am, I struggled (with more success sometimes than others) to show the judges that my sexuality does not define who I am as a person or a model.
How did you get involved with Manhunt? Was modeling always something you wanted to do?
I never had thought about pursuing modeling and had no experience before the show. I was at a birthday party in July where a producer of the show approached me and asked me to do it. I thought he was hitting on me so I ignored him. The next day Bravo called. I was on the show two weeks later.
Were you happy with the way the show was edited? How did you feel that it came across with respect to what you experienced?
The show did not show anything that did not occur. It is difficult, however, to show the motivations behind the things the viewer sees happening or show it completely. The eliminations were always much more positive than was portrayed but the viewer has to be kept in suspense. Everyone asks me about my runway disaster, which I think you accurately labeled a "meltdown." My embarrassing ass shaking down the Puerto Rico runway actually took place over five walks down the runway. After each turn a producer would yell at me to shake my ass, step it up and ham it up. Unfortunately, I made an error in judgment and listened.
How do you feel about being a gay role model?
Wow. I don't know if I am a gay role model, if I am, I would be truly honored to be respected in that way. I do feel there need to be more positive gay role models out there, especially for isolated young gays in middle America. Growing up in Texas, the only openly gay person I met before college was my mom's hairstylist. My mom stopped going to him when I was in sixth grade. I remember my mom telling me he had died of AIDS. I thought being gay meant dying of AIDS. I think it would have been amazing to have a young person with a positive perspective to look up to.
How did you prepare yourself for elements of homophobia in the world of fashion?
I think the world of fashion is one of the least homophobic industries. I have had nothing but support and encouragement from everyone I have met in the fashion industry. I think the gays and lesbians and forward thinking heteros that are in control are finally getting sick of discrimination. In fact, although I did not win the top prize in Manhunt, IMG offered me a contract nonetheless saying my sexuality was a non-issue. Hollywood is a little slower to catch on. It is sad that it is so unrealistic for me to become a successful leading man in Hollywood that I have not even entertained the thought.
When you announced that you were gay, Hunter had a brief episode that portrayed him as a homophobe. Can you tell us any more about that experience?
I was very puzzled by the incident as well. I can only imagine there were other things going on with Hunter that we didn't get to see.
Were you out to friends and family before the show? If not, what were their reactions after seeing you on the show?
I was out to people I see everyday and my family. Some of my friends from home did not know because I don't see them or talk to them regularly. After those friends found out, I received many calls and emails of support, which meant so much to me.
Which of the other models are you still friendly with?
I am actually still friends with most of the models from the show. I keep in contact with Paulo, Tate, Jon, Maurice, Kevin P., Matt and Jason. In fact, Maurice text messaged me to wish me a Happy Thanksgiving.
Was there any behind-the-scenes friction that Bravo did not let the audience in on?
Not really. I think they covered most of it – maybe too much.
What's the most surprising thing you can tell us about one of the other models that we don't already know?
Maurice does a killer RuPaul impersonation. It's hilarious.
Which of the models would you most like to take on a date?
I don't think any of the models are really my type for dating. Plus I don't really have a thing for straight guys so it's hard to say. I will say Paulo is definitely very hot (but should lay off the mesh shirts). Actually, I went on a date with one of the models a year before the show started filming, but I will keep which model it was to myself.
Which of the other models would you want to take to bed?
Marissa Miller so I could get some sleep.
Are you single?
Yes. I am unlucky in love, but I am still hopeful the right person will come along.
What are you passionate about besides modeling?
I love my family and friends. They are the most important thing in my life and keep me sane. But in a business sense, I want to use my journalism degree and do entertainment reporting. I also have a few television projects I am trying to develop. Peter Max-Muller, a celebrity stylist and the stylist for Manhunt, and I have a clothing line coming out in late spring called Grandpa Goes to London. The suits will be similar in cut and quality to those we wore for the fashion shoot on the show, but more affordable.
What has been the biggest perk of your 15 minutes so far?
I live in L.A. where only the big stars get the perks.