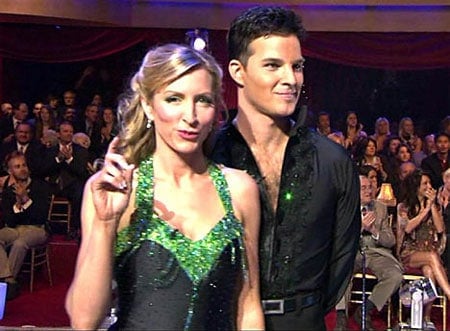 I rarely watch Dancing with the Stars but last night I happened to catch Heather Mills performing the Mambo with her dance partner Jonathan Roberts. Mills did a stunning backflip during the routine, and if there were ever a time for the leg to come flying off, that was it. Mills has been publicizing her stint on the show with just such a possibility.
She told Access Hollywood: "There is a chance on one of the tricks that I do on the mambo at the beginning it is such a kind of pow trick that it could come off. And, I know people are making bets on it and everything." She also told Jay Leno, earlier this week, "I've bet a few hundred dollars it's not going to come off. So I'll win some money."
Mills also recently said she wanted a gay man as a partner: "I asked for a gay guy... I said, 'I haven't had a date in 10 months and yet I've been associated with all these different people, which is rubbish.' Jonathan turned up and I said, 'Well, he doesn't look gay,' and I said, 'Are you gay?' And he said, 'No, I'm not, I'm married...' He's just a great person."
Though I have issue with so many things about that last statement, I have to say that Mills does a mean backflip given her prosthetic limb. She certainly knows how to keep her eyes, er, leg on the prize. Clip (sorry for the quality) after the jump...