Lord Browne, who resigned as head of British Petroleum last week, found himself at the center of an unraveling scandal after it was revealed that he had not been truthful under oath when discussing how he met his 25-year-old boyfriend Jeff Chevalier. Browne had said he met Chevalier while exercising in Battersea Park when the escort site Suited and Booted might have been a more truthful answer.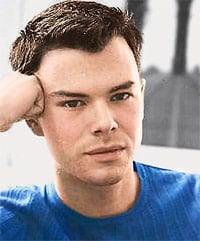 Over the weekend, the Mail on Sunday published an extensive interview with the now scorned former rent boy. According to the tabloid, Browne "ended the relationship last year - virtually cutting Chevalier off without a penny."
Chevalier recounts an evening with Prime Minister Tony Blair: "I remember being really nervous, particularly when six security officers came around to sweep the flat the previous day. Then they came back with Mr Blair the next evening. I remember they sat in the kitchen with Barry the butler while we all had dinner. John was scrupulous about when these meals began and ended - they would usually go on for no longer than two or two-and-a-half hours, a little like a board meeting. We shook hands and were introduced in the drawing room. We stood there chatting in a group of four. I remember looking at Mr Blair and thinking that he hides his extra weight really well. He also has the eyes of someone who never sleeps. He was also taller than he looked on TV and there was a slightly religious tone to the conviction with which he spoke about things. On speaking to me, Tony would call me by name and clarify for my sake certain things which were said regarding business and politics which I might not have understood. When business between Tony and John got a bit more private, Anji [Hunter (Blair's former 'gatekeeper' who had gone to work for Lord Browne) spoke with me to allow the two to talk. He shook my hand goodbye and said that it was nice to meet me - and called me by my name again, which I appreciated."
Chevalier lets it all out — the £3,000 bottles of claret, the £5million Chelsea apartment, socializing with Elton John, Jude Law, U.S. Congressmen and Senators, Ronald Lauder, holiday trips on private jets, and finally the realization:
"I was open to a lifestyle that people could only imagine about. It was all new to me and for the first few years a novelty. But after a while it became almost unbearable. Billionaires remembered me, but I did not remember them. The anxiety grew from not remembering these notables who knew me but whom I did not remember. Ultimately I experienced panic attacks from the thought of not knowing to whom I was speaking. John could not understand why his world was so difficult for me. Neither could I communicate to him the fear I was experiencing from all the parties, dinners and nights at the opera. John introduced me to all his acquaintances: friends, co-workers, billionaires, celebrities and the like. By 2004 I panicked before, during and after every function, because the people I met were so numerous and notable. I lost all ability to function as John Browne's partner. He did not understand my anxieties and I had no ability to understand his concerns. We were worlds apart and we both grew to realise this."
The TRUE story about Lord Browne – by ex-rent boy lover [the mail on sunday]
Seedy website at centre of Lord Browne's lie [the mail on sunday]