Barbara Walters hit on Barack Obama today on The View, telling the Democratic candidate he was "very sexy looking." They also touched on some other topics.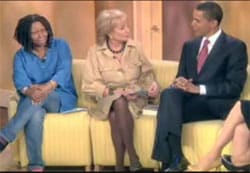 On being a distant relative of Brad Pitt: "I guess we're ninth cousins something removed or something. I think he got the better-looking side of the gene pool."
On surviving the attack machine: "I'm skinny but I'm tough. I think the way to handle attacks, wherever they're coming from. And there have been some tough punches thrown in this Democratic primary. It's not like I've kind of been taking a cakewalk through this primary. The way I like to handle attacks is to answer honestly, swiftly, forcefully and truthfully. I think the truth is a powerful weapon."
On Jeremiah Wright: "Had the reverend not retired, and had he not acknowledged that what he had said had deeply offended people and were inappropriate and mischaracterized what I believe is the greatness of this country, for all its flaws — then I wouldn't have felt comfortable staying there at the church."
View the clip, AFTER THE JUMP...