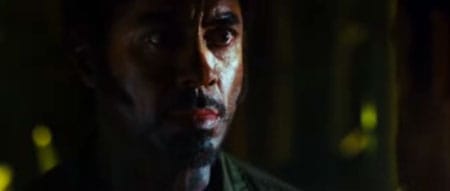 At the beginning of the month I posted about Tropic Thunder, the forthcoming Ben Stiller movie-within-a-movie in which Robert Downey Jr. plays an actor who decides to color his skin black when he's assigned a role which was originally written to be played by a black man.
Downey, Jr. acknowledged the risk: "If it's done right, it could be the type of role you called Peter Sellers to do 35 years ago. If you don't do it right, we're going to hell. At the end of the day, it's always about how well you commit to the character. I dove in with both feet. If I didn't feel it was morally sound, or that it would be easily misinterpreted that I'm just C. Thomas Howell in [Soul Man], I would've stayed home."
The full trailer for the film has just been released. Watch it, AFTER THE JUMP (warning: autoplay)...