New York Governor Eliot Spitzer has been linked to a prostitution ring, the NYT reports: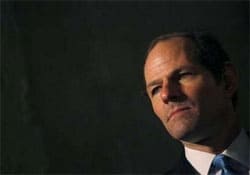 "Gov. Eliot Spitzer has been caught on a federal wiretap arranging to meet with a high-priced prostitute at a Washington hotel last month, according to a person briefed on the federal investigation. The wiretap recording, made during an investigation of a prostitution ring called Emperors Club VIP, captured a man identified as Client 9 on a telephone call confirming plans to have a woman travel from New York to Washington, where he had reserved a room. The person briefed on the case identified Mr. Spitzer as Client 9. The governor learned that he had been implicated in the prostitution probe when a federal official contacted his staff last Friday, according to the person briefed on the case. The governor informed his top aides Sunday night and this morning of his involvement. He canceled his public events today and scheduled an announcement for this afternoon after inquiries from the Times."
Said Spitzer in a 3 pm statement: "I acted in a way that violated in my obligation to my family...I apologize first and most importantly to my family, and to the public, I promise better. I am disappointed and failed to live up to the standard I expected my expect I must dedicated some time to regain the trust of my family."
There were no details beyond the statement as to his future as governor, although Spitzer said he would "report back in short order"...
View Spitzer's statement AFTER THE JUMP...
If Spitzer were to resign, New York Lieutenant Governor David Paterson would become the state's 59th governor.
Politico: Meet David Paterson.
How New York succession works...
Spitzer Is Linked to Prostitution Ring [nyt]