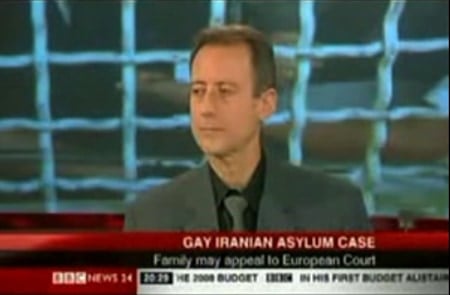 British activist Peter Tatchell talks to the BBC regarding the case of gay Iranian teen Mehdi Kazemi, who late last week (after much outcry) was granted a reprieve from deportation by the British government, which previously had rejected his asylum request.
Says Tatchell: "If it was true that there was no homosexuality in Iran, why does the Iranian penal code need to stipulate that sexuality is a crime, and that gay people should be sentenced to death? Obviously, that's absurd. And of course there is not a single openly gay person in Iran because if you declare you're gay you'll be arrested, taken to prison, tortured until you confess, and then executed in public. Every gay and lesbian person in Iran today lives with the fear of a knock on the door in the middle of the night. It's like Nazi Germany with regard to Jews. That's the fear that exists."
Clip AFTER THE JUMP...
previously
Following Reprieve, Gay Iranian Mehdi Kazemi Thanks Supporters [tr]
Save Gay Iranian Teen Madhi Kazemi [tr]
Gay Iranian Mehdi Kazemi Seeking Asylum in the UK [tr]