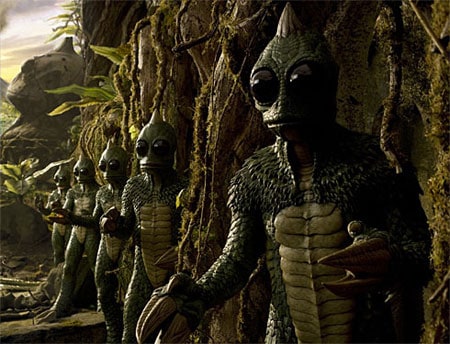 I was a total sucker for Land of the Lost and its really bad effects when I was a kid (although at the time I thought they were totally amazing), so I'm interested to see what they'll do with the remake. Universal has just released the first image of the Sleestaks from the upcoming film (above).
USA Today writes: "Director Brad Silberling (Lemony Snicket's A Series of Unfortunate Events) says he fought to keep the human shape of the Sleestak from Sid & Marty Krofft's original production (right), and not give into the urge to render them as spindly computerized beings. In the '70s TV show, they were guys in lime-green pajamas — and looked it. The Sleestak are much sleeker now, but the film is largely a comedy, so the guy-in-a-suit look has its charms, Silberling says. 'There is a sense of humor that I loved from the original show that can only come from an actor trying to negotiate the suit. If it became CG, they'd be too perfect. For the Sleestak to remain in people's memories, it tells you that it was about who was in the suit.' One difference: Instead of toting crossbows, the Sleestak draw quills from their spines and fire them like arrows. Marty Krofft says nostalgia is a major part of the movie's appeal: 'I think they'll cheer when they see the Sleestaks.'
AFTER THE JUMP, the TV show's opening credits...