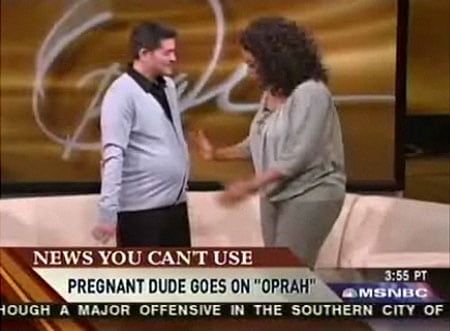 I thought Oprah handled the story of pregnant transgender man Thomas Beatie with respect yesterday. Not everybody's so accepting of Beatie, however, and plenty of people are openly threatened by him.
Like David Letterman, who called Beatie an "androgynous freak show" in his Top Ten the other night, the hosts of MSNBC's Morning Joe spent a few minutes expressing their nausea. Take a look at how Willie Geist, Mika Brzezinski and Joe Scarborough air their disgust about Oprah "legitimizing this" in this morning's 'News You Can't Use':
Says Scarborough: "I'm not gonna look at this. Tell me when it's over. I'm not looking. We don't want the facts. I can't handle the facts."
Says Brzezinski: "I don't want to know the deal. I don't want to hear. I'm gonna be sick. I'm gonna be sick. I am upset. That was not only stupid and useless, but quite frankly, disgusting."
Brzezinski asked who the father is, and Scarborough responds: "The parrot at the pet shop...A former aide of Jim McGreevey. Are the McGreevey's involved in this in any way?"
Watch the clip, AFTER THE JUMP...