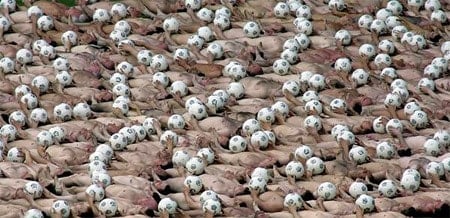 Spencer Tunick, the master of the mass nude photo, hit Vienna, Austria over the weekend, photographing nearly 2,000 people in Happel Stadium. Tunick said he hoped to capture "the spirit of sports, the grand sweeping waves of stadium architecture and the abstract relation of the human form to modern structures."
No word on whether or not Austria's skin-lovin' national rugby team took part in the shot.
Two more shots AFTER THE JUMP (possibly NSFW)...
Previously
< ahref="http://www.towleroad.com/2007/10/behind-the-scen.html">Behind the Scenes of Spencer Tunick's Miami Beach Photo Shoot [tr]
Glacial Bodies: Spencer Tunick's Latest Freeze Frame [tr]