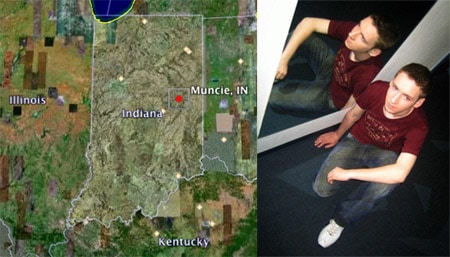 Kyle Flood (pictured), a 21-year-old student at Ball State University in Muncie, Indiana, and four friends were attacked by two men after leaving a bar early Friday morning, the Star Press reports:
"Flood said the incident happened around 3 a.m. as he and four friends were leaving Moe's bar, where they had been singing karaoke. Two college-age men on foot approached the group as they were at Dill Street and University Avenue and started calling Flood and his friends '[expletive] faggots,' Flood said. When a woman in Flood's party asked one of the men to 'move on,' the man put the woman in a choke hold and threw her to the ground, Flood said. As Flood attempted to intervene, he was knocked to the ground and punched in the face. Flood reported that another man in his group was also attacked. The attackers fled with a third person, who was not involved in the attack, Flood said. Witnesses told Flood they saw the men get into a car at the Ball State Federal Credit Union. Ball State police arrived quickly and attempted to track the men down but were unsuccessful, Flood said. The attack, and the fact that the men remained at-large, has affected Flood's sense of safety. 'I don't think I'll be going to the bars in Muncie in a long time,' Flood said."
Indiana Equality yesterday published a first-hand account of what appears to be the same crime.
Law enforcement called anti-gay attacks rare on campus. Said Ball State University Police Chief Gene Burton: "Let me put it this way, I've seen it before. But I could not tell you the last time."
Ball State student says attack was hate crime [the star press]
Ball State Bias Crime [indiana equality]
(image via flood's wikipedia page)