Former New Jersey first couple James and Dina Matos McGreevey offered the public a surprise yesterday as they began to actually behave like adults, settling the child custody portion of their divorce and offering none of the fireworks that the media was waiting hungrily to hear about: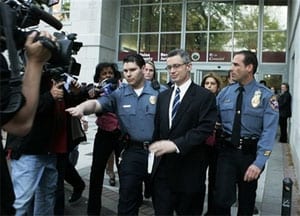 "The deal for custody of their 6-year-old daughter came on the third day of negotiations, which included some closed-door testimony before state Superior Court Judge Karen M. Cassidy, who was trying to avoid a divorce trial. The couple and their lawyers are scheduled to return to the Union County Courthouse on Monday to begin settlement talks on remaining issues, including alimony and child support. Should those succeed, the final issue would be Dina Matos McGreevey's claim of marriage fraud. Mr. McGreevey left the courthouse Thursday evening escorted by two uniformed sheriff's officers. Speaking of the custody agreement for his daughter, Mr. McGreevey said, 'She'll get a large amount of time to spend with her parents.'"
McGreevey speaks about the settlement, AFTER THE JUMP...
McGreeveys Reach Deal on Custody of Daughter [ap via nyt]